Restaurant: Bear Rock Cafe
Location: Northwest, 4005 West Parmer Ln, Austin TX 78727 Map
Phone: (512) 835-7625
Price: $5-$8
Hours: Mon-Sat 7am – 9pm, Sun 7am – 8pm

Food (6/10)
(6/10)  Mojave BBQ Flatbread
Grilled chicken breast, pepper jack cheese, 30-spice BBQ sauce, grilled peppers and grilled red onions on a grilled flatbread.  We have tried this dish several times on flatbread and sandwich bread and we recommend it as a sandwich because the flatbread overpowers the other flavors.  The flatbread version is also filled inadequately compared to the sandwich.  However, the sauce is tasty and they have good quality chicken, which makes this worth trying at least once.
(5/10) Rio Grande Flatbread
Grilled chicken breast, pepper jack cheese, lettuce, tomatoes and poblano spread on a grilled flatbread. The cold lettuce and tomatoes do not go well with the warm filling of the flatbread pita.  It is very bland and the flatbread is not stuffed adequately, especially given the price. The best part is the side-order of seasoned potato wedges (delicious!)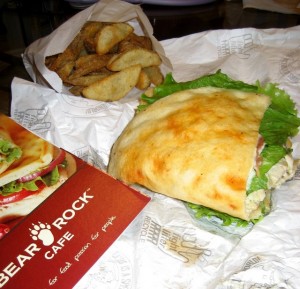 Service (7/10)

At Bear Rock Cafe, patrons order at the counter and wait for their name to be called to pick up the food. The staff is friendly and helpful if you are indecisive. The food here is made to order, so expect to wait 5-10 minutes before its ready.
Ambiance (7/10)
It feels as if you're dining in a lodge with a large stone fireplace, cozy couches and tables with woodbeams everywhere.  Bear Rock really enforces this "nature and woodsy" feel, and the names of foods on the menu mirrors that theme.  But don't let the old-fashioned nature feel fool you, they have power outlets for laptops at every table and offer free wi-fi.