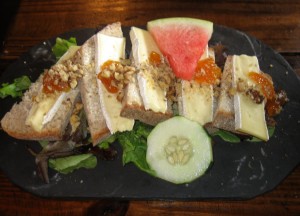 Restaurant: Blue Dahlia
Location: East Austin, 1115 East 11th Street, Austin, TX 78702 Map
Phone: (512) 542-9542
Price: $6-$15
Hours: Mon-Fri 8am – 10 pm, Sat-Sun 9am – 10 pm
Food (6/10)
(6/10) Brie with Walnuts and Apricot Preserve Tartine
This open-faced sandwich is served on buttered pieces of whole wheat bread, and placed on a bed of salad greens. This tartine was presented somewhat haphazardly, with the preserves and nuts falling off. The bread had a great texture because it was firm and moist. It was not flavorful though. The brie was creamy, but keep in mind that it is a mild cheese. We wish they would spice things up a bit because this tartine was a little boring. The sweet preserves went well with the cheese, and a few more walnuts would go a long way because they added an enjoyable crunch. A piece of watermelon accompanied this sandwich. There is oil and balsamic vinaigrette on every table so we used it to finish off the fresh salad greens.
(7/10) Smoked Salmon with Garlic & Herb Cream Cheese Tartine
This tartine is served with salad greens, cucumbers, and watermelon. The thinly sliced salmon tasted fresh and was not chewy at all. The garlic and herb cream cheese complemented the salmon well and gave it a delightful creamy texture. The cream cheese and salmon were placed on the bread in a uniform way with complete coverage (unlike our other tartine). Thankfully, the bread was soft and did not overpower the other ingredients. This is a solid but simple tartine, so don't expect to be blown away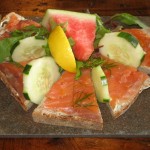 (6/10) Bread Pudding with Butter Rum Sauce
There was hardly any pudding in this bread pudding! The waiter told us they use day-old bread to make it. It tasted like a yummy piece of French toast dipped into butter rum. The raspberries and blueberries around it tasted fresh. The crust of the bread was very tough and seemed to make up 1/3 of this bread pudding, which made eating this sweet dessert a little less enjoyable.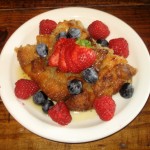 (6/10) Flourless Chocolate Cake with Raspberry Drizzle
The chocolate cake was nice, but didn't wow us. We would have preferred a more chocolaty flavor. Also, it would have been nice if the powered sugar was actually on the cake instead of decoration. The raspberry sauce was a little sharp, but complemented the cake well.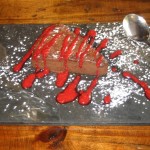 (5/10) Rockstar Bagel
We ordered the plain one, and it was a regular bagel but a little on the firm side.
Service (7/10)
We dined on a weekday evening and the restaurant was half-full. It was self-seating and we chose to sit next to the large window to get a view of outside. Our waiter was friendly and made some great wine recommendations, but Granache came out warmer than room temperature. The Riesling was nice and chilled. Our food came out in a timely manner. We did have to get his attention a few times to get refills or to order more. Also, he assumed we were finished eating too soon and brought out the dessert menu – but we weren't done ordering just yet! Still, the service here was good.
Ambiance (8/10)
Blue Dahlia encompasses a French bistro vibe; it is cozy and adorable. There is only street parking available, but it is pretty easy to find spaces close by. The interior is intimate without feeling overcrowded. There are a few long, shared tables in the center of the restaurant, lots of wood beams, and local art hanging on the walls. There was some New Orleans style jazz playing softly from the speakers. The front patio has benches with large comfy pillows, and tables and chairs. The back patio has even more tables and it feels as if you're dining in a secret garden. There are fans with misters so you don't melt away. This place isn't good for large gatherings, but great for smaller groups. Blue Dahlia has reasonably priced items, especially considering it's mostly local and organic. The menu is also vegetarian-friendly. Unfortunately, the sandwich selections that are described so enticingly on the menu, seemed mediocre at best. Your best bet is to visit this quaint little eatery during happy hour to indulge in their fun wines and appetizers.