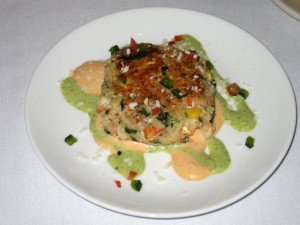 Restaurant: Cafe Josie
Location: Downtown, 1200 W 6th St # B, Austin, TX 78703 Map
Phone: (512) 322-9226
Price: $10-$12 Lunch, $20-$28 Dinner
Hours: Tue-Fri 11:30am – 2pm & 6pm – 9:30pm, Sat 6pm – 10pm. Closed Sun & Mon
Food (6/10)
(8/10) Grilled Lobster Cakes
A delicious lobster cake with lime-cilantro aioli. It tastes like a spicy lump crab cake and is excellent. Wish it came as a large entree!
(7/10) Crispy Artichoke Salad with Chipotle Aioli
Fried artichoke on romaine lettuce with red cabbage, carrots, tomatoes, feta cheese, and pine nuts, topped with chipotle aioli dressing. All the ingredients compliment each other really well and there was more food than we expected considering this is an appetizer.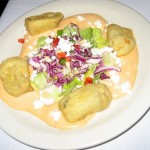 (6/10) Baby Spinach Salad
Spinach with cajeta glazed walnuts, manchego cheese, and passion fruit vinaigrette. The cheese and walnuts were a great touch.  It reminded us of a Waldorf salad without the apples and craisins. The vinaigrette was pretty good too.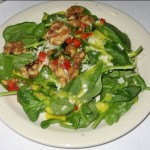 (7/10) Corn Bisque
The soup was a good, slightly thick consistency, and had a wonderful mild flavor to it. It was sweet and chunky because of the corn. The bisque is topped with sunflower seeds, a nice touch that made the dish feel fancy and not look so boring.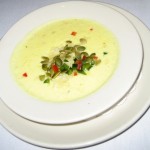 (6/10) Macadamia Crusted Mahi Mahi with Mango Salsa
Grilled Mahi Mahi, crusted with macadamia nuts and topped with mango salsa. This dish is served with a side of steamed carrots and snap peas and a delicious mix of ginger tamarind and spicy mango sauce. The fish tastes just like frozen fish sticks I used to eat as a kid, however these are pricier.  What sets this apart is the spicy sauce and mango flavor that goes really well with the fish.  Overall the fish is okay, but next time we will try the redfish instead.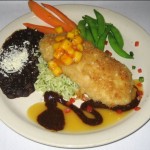 (5/10) Mesquite Grilled Beef Tenderloin
Mesquite grilled beef filet with guajillo Chile lime butter and served on garlic mashers with ginger tamarind and fresh vegetables. We ordered this dish medium-well but it came out medium. Parts of the meat were tender while other parts were unpleasantly chewy. The meat itself was lacking that grilled flavor and we had to generously dip it into the ginger tamarind sauce on the side. The blanched snow peas and carrots tasted fresh, and the garlic mashed potatoes were whipped to perfection.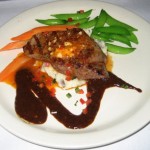 (9/10) Venezuelan Chocolate Pot
Moist, molten chocolate cake with dark chocolate ganache, Amy's Mexican vanilla ice cream and raspberry nectar. Absolutely our favorite part of this dining experience.  The cake was indeed moist and the raspberry nectar was fantastic. The drizzed ganache was the icing on the cake (pun intended)!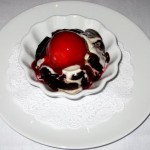 (7/10) Venezuelan Chocolate Truffle
A thick slice of cake with praline pecan sauce and dark chocolate ganache. It was very dense and lost some of the chocolate flavor. The outside was creamy and good though.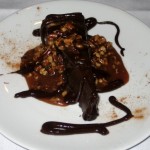 Service (9/10)
The service was great. The hostess was genuinely friendly and even offered to take a few pictures of us with our camera. We had reservations and were promptly seated. Our waitresses (it felt like we had two) were both professional and offered suggestions. They checked up on us several times and spaced out our 4-course meal nicely. We never felt rushed, and they were attentive but not annoying. When we were ready to go, the hostess helped us into our coats…what a sweet gesture!
Ambiance (7/10)
There is a classy yet low-key romantic vibe at Cafe Josie. This is a well-lit restaurant with bright paintings, but maintains an intimate feel due to its small size. You can be seated in one of two rooms, but ask for the back room because it's warmer and has decor on the walls. The menu was limited and seems to have the same 3 side items – and although you can't go wrong with aioli, it would be nice to have more variety. Parking can be challenging as the restaurant is located on Blanco, a side street. Free street parking is available, but make sure its not in a tow-away zone!