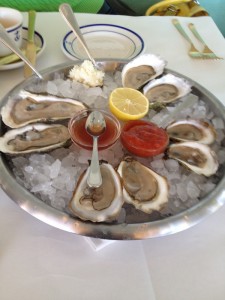 Restaurant: Clark's Oyster Bar
Location: Downtown, 1200 West 6th Street, Austin, TX 78703
Phone: (512) 297-2525
Price: $18 – $30
Hours: Mon-Wed 11:30am – 10:30pm, Thu-Fri 11:30am – 11pm, Sat 11am – 11pm, Sun 11am – 10:30pm
Food (9/10)
(8/10) Oysters
(From top-right going clockwise) Duxberry – Massachusetts, Shining Sea – Prince Edward Island, Pickle Point – location unknown, Wallace Bay – Nova Scotia
An excellent selection of oysters from either coast. Cost varies from $2.75 to $3.25 each. It's best to ask your server on which oysters to select based on your preference. Flavors vary from mild, creamier oysters to brinier options. What sets Clark's apart is the little nuances with the accompaniments. Mignonette (a condiment usually made with minced shallots, cracked pepper, and vinegar) made in house, fresh lemon, house made cocktail sauce and fresh horseradish instead of the bottled prepared option.
(9/10) Smoked Gravlox Salmon Plate
Smoked salmon is served with the typical accompaniments (chopped egg, red onion, capers, creme fraiche) and grilled rye bread. The salmon has a velvety texture and the capers, red onion and grilled rye serve as a good textural contrast.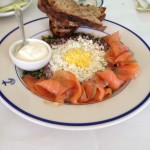 (9/10) Lobster Roll
A classic preparation of lobster mixed with herbs and mayo, grilled white roll, and drawn butter. There's more lobster given than what's shown in the picture (I got a little too excited before it came to picture time). The lobster roll is served with your choice of cole slaw or fries. The fries were crispy and seasoned with salt and herbs. The lobster is the main show here and you definitely get plenty of it per order. I'm not sure where the lobsters come from but it seems as if these were cooked to order as opposed to sitting in a marinade for a few hours. An expensive dish, but definitely worth it if you're looking for high quality lobster and lots of it.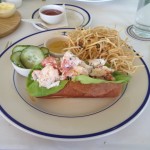 (9/10) Wood Grilled Shrimp Toast
The wood grilled shrimp toasts sits on sourdough and was served with pea tendrils, shaved celery, and a harissa aioli. The shrimp is rough chopped, spread on top of the toast and then wood grilled. The shrimp wasn't overcooked and the harissa aioli provided a good spicy note to the dish. The pea tendrils and shaved celery added some brightness to the dish.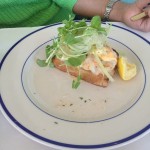 (8/10) Pumpkin sorbet
Clark's Oyster Bar has a rotating selection of sorbets and ice creams. We chose the pumpkin sorbet since it was a unique option. Great tasting sorbet with a lot of pumpkin flavor. Had notes of cinnamon as well. Basically a pumpkin pie in sorbet form, just not as heavy. Overall, a solid finish to the meal.
(9/10) Service
We dined on Saturday for lunch around 11:30am. The restaurant had just opened and only a handful of diners were there before us. We were quickly seated and immediately served water and fresh bread before our drink orders were taken. Servers checked in time to time and dishes were appropriately spaced out. Water and bread was quickly replenished as well.
(9/10) Ambiance
Clark's Oyster Bar is located on the west side of 6th street (between Lamar and Mopac). A small, cozy restaurant that reminds you of a small coastal seafood restaurant in Martha's Vineyard. The inside is bright and colorful (check out the neon blue fish tank) and there's an outside dining option as well. The restaurant seems to fit the vibe of the downtown Austin scene. As the little brother of Perla's, Clark's Oyster Bar provides high quality seafood in a colorful setting. The place fills up quickly and seems to have drawn quite a following in the 6 weeks of operation. The food can be on the expensive side but you definitely get high quality for the dollar amount. In addition to the high quality fresh seafood, what sets Clark's Oyster Bar is the attention to it (fresh baked bread, house made butter, fresh horseradish, etc). Seafood fans will thoroughly enjoy!
Reviewed by Shaun, AustinFoodRatings.com