Restaurant: Driskill Grill
Location: Downtown, 604 Brazos St. Austin, TX 78705Map
Phone: (512) 391-7162
Price: $35+
Hours: Tues – Sat 5:30pm-10pm
Food (5/10)
(7/10) Texas Chop Salad
Maytag Blue Cheese, Smoked Bacon, Avocado, Crisp Plantains. The salad dressing and bacon make this one of the most delicious salads we've had. It is accompanied by a small scoop of guacamole on the side, which didn't necessarily add anything. Unfortunately, this simple salad was one of the highlights at this extravagant restaurant.
(4/10) Signature Lobster Bisque
Crab Salad on Brioche. It sounds appetizing but was quite disappointing. The amount of crab salad and brioche is equivalent to 1 teaspoon which was drowned by thin and watery soup. It was served lukewarm and had no flavor except for an unpleasant hint of fishiness.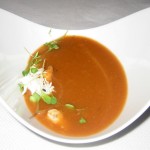 (6/10) Roasted Bandera Quail
Mushroom Risotto, Cherry Gastrique. This small piece of quail lacked flavor and reminded us of Thanksgiving turkey. However, the quail was tender and was pretty good when combined with the yummy risotto.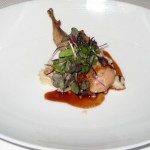 (4/10) Prime Beef Carpaccio
Truffled Dijon Aioli, Arugula. The carpaccio is thinly sliced and has a slimy/mushy texture. This may have been our first time trying carpaccio, but it wasn't our cup of tea. Eating it with aioli sauce did not help much as the carpaccio texture was overpowering. There were a few capers on the corner of the plate…and didn't help this dish either.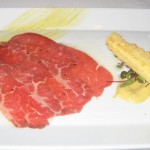 (6/10) Prime Dry Aged Filet Mignon
Forestiere, Truffled Potatoes, Glazed Cippolinis. We ordered the steak medium, however it came out medium-well, causing it to be dry and slightly chewy. We expected more from this upscale restaurant but the filet was about average with other restaurants. The truffled potatoes were an excellent addition and complemented the steak very well. If you are looking for mouthwatering tenderloin, check out Restaurant Jezebel.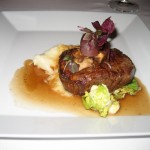 (4/10) Cast Iron Grouper
Crimson Lentils, Broccolini, Mango Butter. This dished is served in a gigantic bowl, but the grouper portion is tiny. But that is okay since the entire dish is completely dry and flavorless. There appeared to be shaved radishes over the grouper which did complement the fish at all. Stay away from this dish even if the waiter recommends it!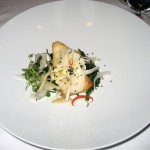 (10/10) Chocolate Raspberry Gateau
Dark Chocolate Mousse, Raspberry Custard, Chocolate – Cambord Liquor Glaze, Raspberry Sorbet. After a disappointing dinner, we were not expected much from their desserts, but we were proven wrong. This is one of the best desserts we have ever had! It consisted of a layer of chocolate cake, rich mousse, and topped with a hard chocolate crust. We were in chocolate heaven! There is a perfect amount of creamy and rich-ness so that you are not left with a stomach ache. This dish is also served with a small scoop of raspberry sorbet which is the richest sorbet we've ever had – it had a strong raspberry taste. Next time we will come back to Driskill Grill just for the dessert. Major props to the pastry chef Tony Sansalone!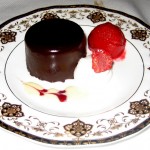 Service (8/10)
As you would expect from an upscale restaurant, the service is very professional. We were happily greeted by the hostess and escorted to our awaiting table. The waiter immediately approached our table, introduced himself, and asked if there is anything he could bring for us. From taking our order, to refilling our water, everything was done in a precise and methodical manner. However, be sure to allow at a minimum of 2.5 hours to complete your meal (excluding drinks). The dinner is served in multiple courses which are spaced out which is great if you want a relaxing meal without feeling rushed. We noticed that other patrons that were there when we arrived were still there when we left!
Ambiance (10/10)
The Driskill Grill is located in the historic, upscale Driskill Hotel in downtown Austin. Parking can be difficult to find on the side streets, but valet is available. Also, the Grill will partially validate if you choose to valet.  When you walk into the hotel lobby you are instantly surrounded by a rich, classy, Southern traditional vibe. It is no different when entering the restaurant. The whole room is elegantly decorated and the fine China tableware is like nothing you've seen in a restaurant – making this one of the top romantic dining atmospheres in town. Perhaps a good choice for drinks/dessert with that special someone, or a large group.