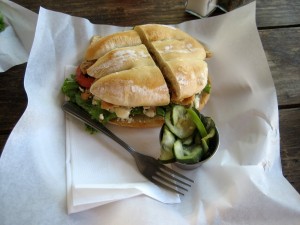 Restaurant: Food Heads
Location: Central Austin, 616 West 48th Street, Austin, TX 78705  Map
Phone: (512) 420-8400
Price: $7-$9
Hours: Mon-Sat 8am – 4pm
Food (5/10)
(7/10) Chicken Special
Grilled chicken breast on toasted ciabatta with lettuce, tomato, avocado, feta cheese and tarragon mayonnaise. The bread was slightly hard, which seemed to be the theme for the other sandwiches as well. The lettuce, tomatoes and avocados tasted fresh. The feta cheese was a nice touch. The tarragon mayonnaise was very mild and lacking in flavor. Still, this was our favorite sandwich out of the ones we tried.
(5/10) Pulled Pork Sandwich
Shredded adobo pork roast on toasted ciabatta with lettuce, white onion, avocado, and Frank's hot sauce. After hearing much hype about this particular sandwich, we were sad it did not deliver. There was way too much hot sauce on the sandwich. The bread was soggy, and it was much too spicy for us to enjoy. The pork was not temperature hot when it came out, and we would have preferred it to be nice and warm. Unless we had a newbie making our sandwich or something…stay away from this one!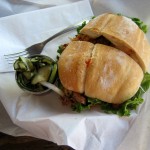 (5/10) Garlic & Herb Roasted Leg of Lamb
Served on toasted ciabatta with lettuce, tomato, grilled eggplant, feta cheese and cucumber mayonnaise. The lamb was extremely tough and tasted gamey – not herb roasted at all. We didn't expect it to be soft and tender, but this was inedible! The cheese added some nice flavor. The cucumbers were sliced too thick, but the eggplant was grilled nicely. Each sandwich comes with one very small side and unfortunately, we enjoyed the sides more than the actual sandwich. The choice of side items included a potato salad, pickles and cole slaw.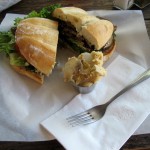 Service (7/10)
We came around noon on a weekday and stood in line for about ten minutes while perusing the large chalkboard menu. The cashier was efficient and took our order. The water, tea, silverware area is self-serve, and then we sat outside since it was a nice day. Our sandwiches were brought to our table about ten minutes later. Again, the waitress was competent, but not very friendly. We weren't checked up on during our meal, but perhaps that is because it is a self-seating, casual café. When we finished eating, we did not have to bus our table. Overall the service was good, but could use a few personal touches.
Ambiance (6/10)
An old house that turned into a restaurant, Food Heads has kitschy-but-quaint decor inside. Street parking is available, but keep in mind it gets pretty crowded during the lunch rush. There are several tables inside, and a porch with covered or open seating outside. Food Heads uses New World Bakery Breads and makes its own condiments. If you work close by, it is a nice change from the chain restaurants and has that hippie Austin vibe to it. Although they offer reasonably priced food and might have been having an off-day, the gourmet sandwiches were just mediocre at best.