Restaurant: Galaxy Cafe
Location: Central Austin, 4700 West Guadalupe Austin, TX 78751 Map
Phone: (512) 323-9494
Price: $6 – $11
Hours: 7am – 10pm, 7 days a week
Food (6/10)
(6/10) Galaxy PLT
Thinly sliced prosciutto & fresh mozzarella cheese with mixed greens, tomato & pesto mayo on a grilled French baguette. We are big fans of prosciutto, so this sandwich caught our eye from their vast menu selection. However, the slices were thicker and chewier than we expected and we had a tough time biting through it. The fresh mozzarella was creamy and the pesto mayo added a delicious flavor to the sandwich. Our rating would have been higher had the prosciutto been better quality.
(6/10) Grilled Chicken Chipotle Wrap
Choice of flour, wheat, or spinach tortilla with grilled chicken, cheddar cheese, pico de gallo, black beans, leaf lettuce & chipotle mayo. The chicken was tender and plentiful, but did not have much flavor on its own. But lucky for the wrap, there was some spice from the pico and richness from the chipotle mayo. There was very little cheddar cheese but plenty of beans. This is a solid Chipotle-like wrap with no frills, in a mini version.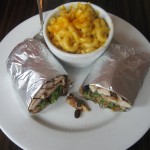 (6/10) Galaxy Breakfast Wrap
Scrambled eggs & your choice of 3 ingredients wrapped in a "giant" tortilla. For this "build your own" burrito, we chose a wheat tortilla, cheddar cheese, breakfast sausage, and mushrooms. Additional veggies are available for $.50 each. Obviously, these guys has never been to Freebirds because the tortillas here are not giant at all. The portions here are enough for an average person to easily finish. On a positive note, the wrap was stuffed to the max with eggs and gooey cheddar cheese. However, there was only a small amount of sausage and the mushrooms were almost non-existent. As with the chicken wrap, this is a solid choice but there is nothing spectacular about it. For a spectacular breakfast taco, check out our review of Torchy's.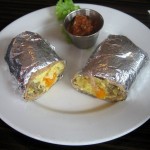 Service (7/10)
Galaxy Cafe is an eatery where you place your order with the cashier and the food is brought to your table. We dined here on a busy Sunday afternoon and had to wait about 15 minutes in line to order. It was ok since it gave us a chance to look over their numerous breakfast and lunch menu items. Even though the place was packed, we were pleasantly surprised when our food came out in about 5-8 minutes. Our waiter remembered to bring ketchup the first time for the breakfast wrap.
Ambiance (8/10)
There are 3 locations around Austin, but we dined in the Triangle area near UT campus. If you are not familiar with the Triangle, it is a more casual and affordable version of The Domain that caters to college students. The interior of Galaxy Cafe is clean and simple but has flare. The dark wooden tables have a retro feel to it, but the light fixtures, bright white seats, walls, and mirrors have a modern vibe. There is plenty of booth and table seating available inside and patio seating outdoors. Parking is not a problem since there is street parking and a free garage. If you are in the area and looking for a bite to eat, go have a looksie but don't make a special trip out to the Galaxy cafe.