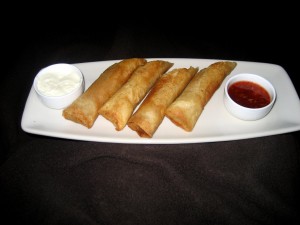 Restaurant: Gold Class Cinemas
Location: The Domain, 3225 Amy Donovan Plaza, Austin, TX 78758 Map
Phone: (512) 568-3400
Price: $12-$20
Hours: Varies by showtimes, but the kitchen closes at 11pm
Food (7/10)
(7/10) Crisp Maine Lobster Rolls
With lemon aioli and sweet Thai chili sauce. These lobster rolls were a notch above average. The fried exterior had a great texture and crunch. The inside was delicious, but the lobster taste didn't quite come through. It was almost as if we were eating a regular eggroll, instead of a gourmet one. The subtly flavored lemon aioli and the sweet chili sauce both made for great dipping options.
(6/10) Crispy Spinach, Artichoke & Gruyere
Petite croquettes of fresh spinach, citrus, grated gruyere and artichokes with marinara dipping sauce. We must have read the description too quickly in the dark because we were expecting a dip! Either way, this appetizer seemed unique. The outside was a bit tough and overpowering, but the artichoke, spinach and gruyere cheese complemented each other nicely. It just oozed out into your mouth. The marinara sauce was really cold and did not enhance the croquettes. The serving size was large for an appetizer, which we appreciated.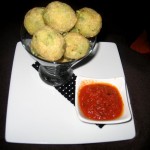 (7/10) Niman Ranch Beef Burger Duo
Applewood smoked bacon, lettuce, and tomato on a brioche bun, with house potato chips and onion rings. These mini burgers were definitely on the mini side for their price. Nevertheless, they were pretty tasty! The beef was seasoned well and had a little bit of that mouth-watering charred flavor. The bun was warm and soft. The lettuce and tomato tasted fresh, but the bacon was a little chewy. The burger as a whole was on the dry side. The chips added a nice salty crunch, and the onion rings were decent.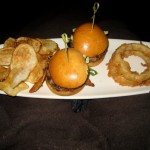 (9/10) Chicken Pizza
Grilled chicken and niman applewood smoked bacon with BBQ sauce. Fabulous! We wished we had ordered 3 of these. The pizza crust was slightly crisp and hot, the grilled chicken was cooked perfectly (but unfortunately for us there wasn't a lot of it!), and the applewood smoked bacon added a smoky sweetness to it. The BBQ sauce tied everything in together beautifully. Order this, and you will probably end up ordering one for the road too!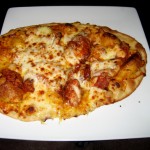 (9/10) Death By Chocolate
Chocolate ganache cake with caramel and toffee. Just when we thought it couldn't get better than the chicken pizza, this dessert decided to compete for our attention. Soft, moist chocolate cake with velvety ganache around the edges. Caramel sauce was drizzled on top of the cake, and sometimes we discovered a bite that had a hint of toffee flavor. This dessert is very appropriately named.  Forget the movie…we would go back to order a couple pizzas and a few slices of this chocolate cake!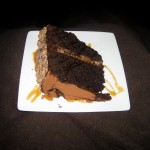 Service (9/10)
When we entered our movie theater room, we were greeted by a hospitable member of the staff and were taken to our seats.  Since we were first time visitors, he courteously explained how things work. We were offered a pillow and blanket and we happily accepted. He also gave us a menu and asked for our drink order. When we were ready to order appetizers, we pushed a glowing button on our table to request service. A waiter quickly came and we gave our order. The appetizers took longer than expected to come out, but this may be due to do initial rush of everyone ordering. We repeated the same process for the main course and dessert, but this time the food came out in a timely fashion. We felt as if we were flying first class on an airplane! One thing we really like about this theater is that all seats have direct access to the aisle. Therefore, the staff doesn't block the screen when they walk through the theater. At the end of the meal, we paid our bill and left with a smile.
Ambiance (10/10)
This posh theater definitely fits right in at The Domain, because it is surrounded by chic, trendy stores. Parking is easily available in an adjacent garage. The inside is beautiful and resembles a fancy hotel's lobby. There is a bar area, and two large rooms to lounge in before a movie begins. There are luxurious sofas with decorative pillows, beautiful lamps, and a few elegant paintings on the walls. In the movie rooms, there are plush, comfy chairs that recline almost completely! Every seat is a good one because the screen is about 30 feet away from the first row. A little tip: You can get discounted food and tickets on Tuesdays if you become a Gold Class member online. Additionally, they sometimes send out emails for a special deal or a free dessert. Due to the cost, we know it would be difficult to watch every movie here, but it's a really fun alternative for anyone who wants to treat themselves to an upscale dinner and movie outing!