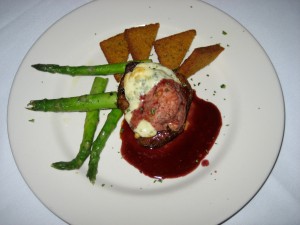 Restaurant: Main Street Grill
Location: Round Rock, 118 E Main, Round Rock, TX 78664 Map
Phone: (512) 244-7525
Price: Lunch: $9-$15, Dinner: $22-$30
Hours: Mon-Sat 11am – 2:30pm, 5pm – 10pm
Food (8/10)
(7/10) Monica's Salad
Crisp romaine lettuce, baby spinach, radicchio, fresh strawberries, blue cheese crumbles, sugar roasted pecans and with a maple balsamic vinaigrette. One can get chicken, shrimp or salmon added to this salad for an extra fee. This was a decent sized, fresh salad. The lettuce and spinach were good, and they included the right amount of blue cheese crumbles. We were disappointed to find very few strawberry pieces. The roasted pecans added a nice crunch, and the balsamic vinaigrette complemented the salad well.

(8/10) Filet Elizabeth
A petite filet mignon dusted in Cajun spices, topped with gorgonzola gratin, and set in rich Beurre rouge with pepper jack polenta and asparagus. We ordered the 6 oz. filet cooked medium-rare, but it came out medium instead. We didn't complain since it was tender, moist, and delicious. The spices and the sauce complemented the filet very well. The gorgonzola was so overpowering that we had to remove most of it. The polenta was an interesting addition. It added spice and crunch to the dish, but tasted just okay. The asparagus was crisp and cooked just right. This is an above average filet mignon that is worth getting!
(9/10) Flourless Chocolate Torte
Peruvian chocolate cake drizzled with white chocolate, with blackberry compote and whipped cream. This item was not on the dessert menu, but was a special that day. All we can say is, wow! This mouthwatering dessert will put you in heaven. The chocolate is rich and scrumptious.  Have you ever had a dessert and wished you had a glass of milk or ice cream with it? You won't with this one since it is so moist and perfect. The side of whipped cream was a nice touch, but they skimped on the fresh strawberry again by giving only one thin sliver. Until this dessert is on their standard menu, we will be calling ahead before dining here to make sure they are serving it that day.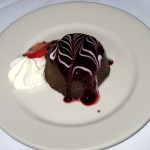 Service (8/10)
We dined at Main Street Grill for dinner on a Friday. When we arrived, we were greeted by the hostess and taken directly to a table. Almost immediately, a server filled our waters and left warm bread on our table. We thought this was a nice touch rather than waiting to serve bread until after patrons place their order. Our waiter was friendly and very knowledgeable about the menu. The dishes came out in a timely manner and the waiter checked on us regularly. Our dining experience here was wonderful until we found a large strand of red hair in the side of hot fudge that we ordered with dessert. We showed it to the waiter and proceeded to remove the dessert from the bill. This is usually the standard procedure in restaurants, but we were glad that it went smooth and effortlessly. Overall, the service was sociable and professional.
Ambiance (7/10)
Main Street Grill is located in the historic downtown Round Rock. Over the years, a number of businesses have occupied this space, including a general store, a newspaper, a bank, and now a restaurant. The exterior is unassuming, but inside you will find a mix of casual and fine dining. There is one main dining area that is separated down the middle by a high-back booth.  The tables have candles and white linen table clothes that give an upscale vibe. But there are also salt and pepper shakers on the tables that take it down a notch.  The walls are decorated with paintings of nature. Patrons have the choice of sitting at standard tables, as well as booth and chair hybrids. There is also a large full-service bar in the rear of the restaurant where patrons can relax and watch a sporting event.  One indication of the restaurant's history is the presence of a bank vault.  Main Street Grill converted the vault into a combination wine cellar – private dining room. If you are looking for the most privacy, request a table in the vault for the ultimate romantic experience.  This restaurant is good for couples as well as small groups. There is limited street parking available, but patrons can use the free parking garage a block away. If you are looking for wonderful food, solid service, and a casually-upscale atmosphere, stop by Main Street Grill for lunch or dinner!