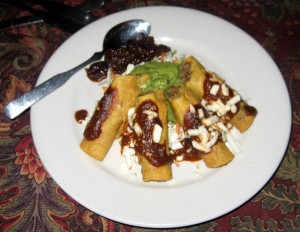 Restaurant: Mirabelle
Location: Northwest Austin, 8127 Mesa Drive, Austin, TX 78759 Map
Phone: (512) 346-7900
Price: $8-$12 Lunch, $18-$25 Dinner
Hours: Mon-Thurs 11am – 2pm & 5:30pm – 9pm, Fri-Sat 5:30pm – 10pm

Food (7/10)
(6/10)  Smoked Pork Tenderloin Flautas with Mexican Oregano Sauce (Appetizer)
House-smoked pork flautas with Mexican oregano and Ancho chile pork sauce, queso fresco, tomatillo and avocado crema and sun-dried cherry chutney. The description sounds unique and delicious, however, it tastes like a typical flauta that you will find at many Mexican restaurants. It comes with only 4 small pieces and is not worth ordering again.
(7/10) Fried Brie with Seasonal Chutney (Appetizer)
Breaded Brie wedge served with an apple-ginger chutney and sliced French bread. You get a giant wedge of fried brie which tastes yummy atop the soft bread and fruity chutney.  Brie loses some of it's appeal after being fried, but its still an interesting taste. Get this dish, especially if you have not tried brie before!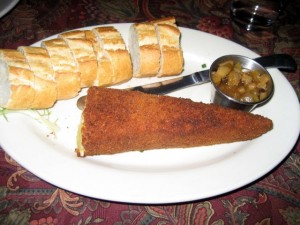 (5/10) Lump Crab Cakes with Basil Oil (Appetizer)
Two sautéed fresh crab cakes with basil oil and tomato concasse. These crab cakes are as plain as they sound – there is no sauce. On the plus side, if you are looking for crab cakes with pure crab and no fillers, this is it!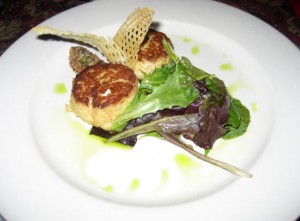 (8/10)  Roasted Pomegranate Duck Breast with a Grilled Corn Fregula
Rotisserie roasted Duck Breast with a dry Mediterranean spice rub and pomegranate molasses glaze, grilled corn Fregula (Sardinean cous-cous), and sautéed asparagus. This is one of the best ducks we have had. It is tender, juicy, and flavorful! The only negative is that it was slightly overcooked.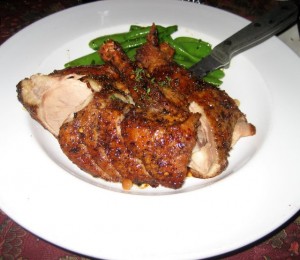 (9/10)  Grilled Beef Tenderloin with Smoked Gouda Cheese
Marinated and grilled beef tenderloin with a red wine herb glaze, smoked Gouda cheese butter, mashed potatoes and green beans with toasted almonds. When we took the first bite of this, we thought we sank our teeth into a filet mignon! The beef is full of flavor and the cheese topping gives it some extra oomph! The mashed potatoes, even without gravy, are delicious. The only negative about this dish is green beans. They were almost raw (crunchy!).
(6/10)  Espresso Rubbed Venison with Sauce Diane
This dish sounds very interesting – espresso rubbed venison. This was our first time trying venison, so we do not have anything to compare it to. But this is not a dish we would order again. The colors of the meat look unappetizing and the texture and flavor were not to our liking.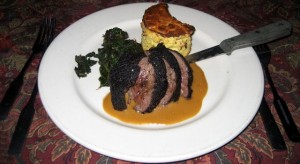 (9/10) Apple-pear Cobbler & Amy's Mexican Vanilla Ice Cream
Warm, fresh fruit cobbler with a sweet biscuit crust and pecan crumble. Wow! This is the best dessert Mirabelle offers. Fresh, sweet and slightly tangy…it does not get any better than warm cobbler and creamy Amy's Mexican Vanilla ice cream.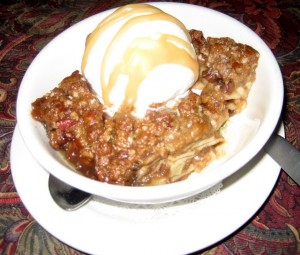 (7/10) "Devastatingly Dark" Chocolate Sacher Torte
A bittersweet chocolate cake moistened with house made cherry jam and cherry kirsh liqueur, then covered with a velvety dark chocolate icing. If you love fruit flavor with your chocolate, the this dish is for you! The layers of chocolate are rich and go perfectly with the cherry jam and liqueur. What really hurt the rating for this is that the entire torte is too firm.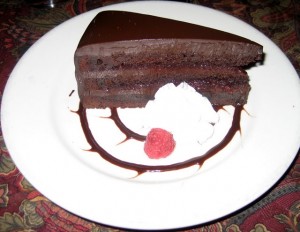 (5/10) Apple Chestnut Beignets with Calvados Sabayon
Fresh beignets sprinkled with powdered sugar and filled with roasted apples, chestnuts, currants, white cheddar and served in a Calvados infused sabayon. When we saw beignets on the menu, it instantly reminded us of Cafe Du Monde beignets from New Orleans. However, these are nothing like it. While this is an innovative dessert, it was not satisfying at all.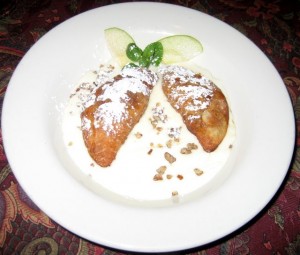 (6/10) Mocha Toffee Torte
A three-layer torte made with imported chocolate, whipped mocha cream, and toffee in a roasted pecan and hazelnut crust. Even though this sounds much different than the sacher torte, both tortes look and taste similar with one exception – this did not have any cherry jam or liqueur. Even with this one, the chocolate was too firm. Skip this and go for the devastatingly dark chocolate sacher torte instead.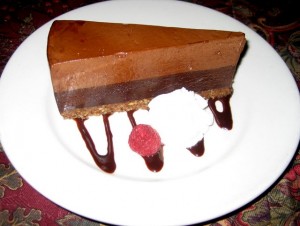 Service (9/10)
When we first entered Mirabelle we were greeted by the host. After telling him we were meeting a group here, he mentioned the name of one in our party and led us to their table. We were already impressed by their service even before being seated. Our waitress was friendly, efficient, and checked on our table at appropriate times. She personally asked each member of our party if they would like a glass of wine, rather than asking the entire table. This was something about the service (and ambiance) that made the whole dining experience very relaxing and enjoyable.
Ambiance (9/10)
Mirabelle is located in the quiet locality on Mesa Rd near Spicewood Springs. From the outside, it looks like a casual restaurant located in a strip-mall. However, when you walk in you are immediately hit with a romantic, upscale, yet casual vibe. The restaurant is dimly-lit and perfect for a date, but also good for groups since they have large tables in a secondary room.  Be aware that the restaurant closes at 10pm. We were unaware of this and were there until 11, but the staff never rushed us or indicated they were closed. Very classy!