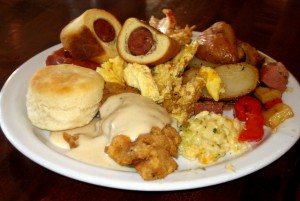 Restaurant: Moonshine Patio Bar & Grill
Location: Downtown, 303 Red River St, Austin, TX 78701 Map
Phone: (512) 236-9599
Price: $8-$20, Sunday Brunch $16
Hours: Mon – Thurs 11am – 10pm, Fri – Sat 11am – 11pm, Sun 10am – 2:30pm, 5pm – 10pm
Food (8/10)
We are going to review this one a bit differently since we dined at Moonshine for their buffet-style brunch. We don't want to overwhelm you by listing every single item we tried but we will list some of our favorites and a few that didn't dazzle us.
Some of our favorite items:
King ranch casserole with smoked chicken & corn tortilla bits – creamy deliciousness
Grilled jalapeno sausages – simple yet savory
Bagels with assorted spreads – fun and tasty
Turkey croissant with mozzarella, basil pesto & sweet cherry peppers – exquisite
Roasted ham with pineapple chipotle glaze – tender and flavorful
White chocolate bread pudding with raisins & bourbon sauce – scrumptiously addictive
We didn't care too much for the following:
Chicken fried steak tenders – chewy and a little dry
Egg in a basket – bland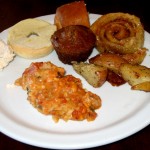 Service (9/10)
We arrived around 11am for their Sunday brunch and were told the wait was about 45 minutes. They had placed ice cold water outside in coolers for people who were waiting – a sweet gesture on a very hot summer day. We're happy to say that only 20 minutes later our buzzer went off and we were seated. Our waiter was genuinely friendly and gave us the low-down on the buffet. He was passionate about the food that they serve and told us which items were not to be missed! During our meal, he attentively refilled waters, gave us additional silverware and routinely checked up on us. We were impressed with his hospitality and how efficient he was at his job.
Ambiance (9/10)
This restaurant is located in the cozy cluster of historic buildings on Red River. Parking can be difficult, but you may get lucky and find street parking. If not, there is always valet and a few lots near by. Moonshine offers a playful twist of down-home cooking in a casually upscale setting. There are several rooms, a bar, and an outdoor patio. The indoor dining room is also inviting and comfortable, with dim lighting, limestone walls, and beautifully polished wood floors. This eatery is great for couples or groups. By the way, during brunch and happy hour, their mimosas, bloody marys, and select cocktails are only $3-$4! You can expect classic but creative comfort foods, a charming atmosphere, and service with a smile. Moonshine has definitely won us over!