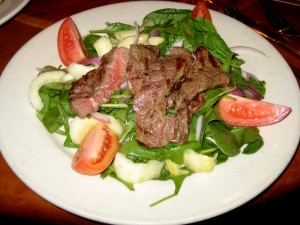 Restaurant: North By Northwest
Location: Arboretum, 10010 N. Capital of Texas Highway, Austin, TX 78759 Map
Phone: (512) 467-6969
Price: Lunch: $7 – $10, Dinner: $10 – $20
Hours: Mon-Thu 11am-11pm, Fri 11am-12am, Sat 10am-12am, Sun 10am-11pm
Food (6/10)
(6/10) Sirloin Salad
Grilled sirloin sliced and served over spinach, cucumbers, red onions and roma tomatoes tossed with a balsamic vinaigrette. We ordered the sirloin cooked medium. It came out lukewarm and slightly chewy. We didn't like how some parts were cooked medium rare and other parts were medium plus.  It did have a nice flavor though, and there was plenty of it. Something there was not plenty of were the tomatoes – especially since the dinner salad costs more than the lunch salad. The tomatoes, onions, cucumbers and spinach tasted fresh and the balsamic vinaigrette was a good choice.

(6/10) Beef Tri-Tip Pizza
Jalapeños, red bell peppers, mozzarella over our homemade marinara sauce. We decided to stay with the beef theme. The pizza crust was a little soft and could have baked for a bit longer to achieve that perfect soft-but-crispy crust. The jalapenos were huge and very potent, so it would have been better if there were less or at least in smaller pieces. We had to pick most of them off, and the pizza was still spicy from the leftover jalapeno juices! The beef was tender and flavorful, and the mozzarella cheese and bell peppers tasted fine.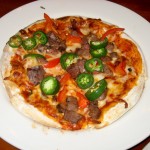 Service (5/10)
We dined at North by Northwest on a busy weekday evening for dinner and were told there would be a 30 minute wait. So we went to the bar and ordered a few drinks. The charming bartender made us some mouthwateringly delicious Mexican martinis that could give Trudy's a run for their money! He also asked us how we liked it. That's where the manners ended and the service became more mediocre.  Our waitress seemed a little scatterbrained. When we asked for a few items, they were just overlooked. Our friend asked for extra olives for her martini, and I asked for our waters to be refilled and for the balsamic vinaigrette on the side. The olives never came, I had to keep asking for more water, and the vinaigrette was already on the salad. It was ok because the vinaigrette was yummy. We were only checked up on once – which was when we received our bill. They could definitely use a few pointers on customer service!
Ambiance (7/10)
North By Northwest is a restaurant and brewery located near the Arboretum. Parking is difficult though because their lot is always full. The patrons must be returning a lot to keep them so busy. This rustic looking lodge has a bar area and several rooms with large booths and tables available. The interior has a warm, casually upscale vibe with slightly Southern décor. This is a family-friendly eatery, but also good for happy hour and date nights. Beer is brewed on-site and you can order the sampler to see which ones strike your fancy. They also have live music on certain nights. Since the food is on the pricey side and the service is a little dicey, North by Northwest might be a place to check out for their great martinis and assortment of beers.