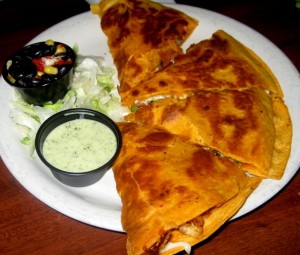 Restaurant: Opal Divine's Marina
Location: North Austin, 12709 Mopac Expy, Austin, TX 78727 Map
Phone: (512) 733-5353
Price: $7-$14
Hours: Happy Hour: Mon-Fri 4pm – 7pm. See the website for hours.
Food (6/10)
(8/10) Shrimp Quesadillas
Flour tortillas filled with queso, pico de gallo, and fresh blackened shrimp. It is served with cilantro lime dipping sauce and a side of black bean corn relish. These quesadillas are stuffed well and are pretty tasty on their own, mostly due to the blackened shrimp and gooey cheese. Dipping it into the cilantro lime sauce adds a new dimension to the flavor and is delicious as well.
(3/10) Build Your Own Nachos
Tostadita chips topped with refried beans, sour cream, pico de gallo, and green onions. You can add beef, chicken, bacon or guacamole for an additional fee. The nachos are soggy and bland and it seemed they were sitting out for a bit before being brought to our table. The bacon and cheese were hard and chewy so we tried picking off the bacon at least. Nacho-lovers beware and stay away from this mess!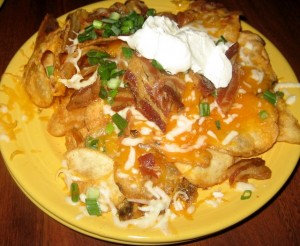 (6/10) Fried Pickle Basket
Pickles that are battered and fried, similar to what you will find at Pluckers. It is served with dill ranch dip and is up to par with other fried pickles in the Austin area.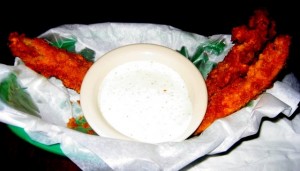 (6/10) Battered Mushrooms
Mushrooms that are battered and fried, and also served with dill ranch dip.  It tastes how a batter-fried mushroom would taste!  The dill ranch dip is ok.
Service (5/10)
The service was average, nothing much to complain about but nothing to write home about either. The waiter was pleasant and somewhat attentive to us.  It did take a while for our (watered down) margaritas to come out, but again we had a rather large group. Know beforehand that they do not split checks. We enjoyed the ambiance and appetizers/drinks at Z'Tejas in the Arboretum much more.
Ambiance (6/10)
The atmosphere inside is woodsy and plain, with some bright neon signs, and a few LCD screens. There is bar seating, restaurant seating and also a patio deck that is dog friendly. Opal Divine's also has free wi-fi and plenty of available parking. This is a good place for singles, couples, or large groups but it can get pretty noisy during happy hour.