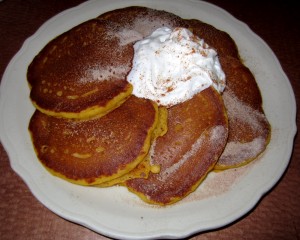 Restaurant: The Original Pancake House
Location: 1700 West Parmer Ln #650, Austin, TX 78727 Map
Phone: (512) 873-7200
Price: $8 – $10
Hours: Mon-Fri 6:30am – 2pm, Sat-Sun 7:30am – 3pm
Food (7/10)
(7/10) Pumpkin Pancakes
Six pancakes dusted with cinnamon sugar, topped with fresh whipped cream and a sprinkle of cinnamon. These pancakes are really sweet and have a subtle pumpkin taste to it. The maple syrup brings it all together nicely. A few bites were a little doughy, but not in an unpleasant way. It would be great if these pancakes were served with a small side of eggs, or some bacon. It was delicious but not too filling.
(8/10) Southwestern Scramble
Three eggs with onions, green pepper, green chili, peppers, sauteed chorizo sausage, and tossed with Idaho potatoes. Served with a side of homemade salsa. These eggs also comes with 3 buttermilk pancakes on the side, which can be substituted for bread. This dish was a decent portion size and the eggs were cooked well. A little more chorizo would have been great. The cheese was a nice addition to this omelette. Using ketchup and hot sauce definitely enhanced the flavors. We were also impressed with the presentation of this dish…it was cute! This dish is simple, but it is a winner.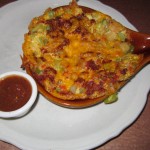 (7/10) Service
We came around noon on a Sunday. It was moderately crowded, and we only waited a few minutes before being seated. Our waitress was kind and efficient, but she seemed a little frazzled sometimes. It was probably because there was a large party seated near us, and their kids were running amok. Our food came out nice and hot, but our waters were never refilled. All in all, the service was good but could use a few touch ups.
(6/10) Ambiance
The original Pancake House is located in a busy strip mall. There is plenty of parking out front. It is on the small side, with the tables spread out in two different areas. The ambiance is a little kitschy but still rather plain. But during any holiday, they put cheesy fun decorations everywhere – many decorations were even suspended from the ceiling! This is a place that can easily accommodate a large group by joining the tables together. Overall, a good breakfast or brunch place on the Northside of town.