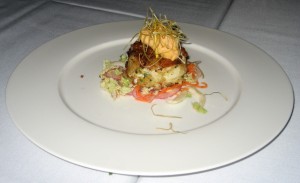 Restaurant: Paggi House
Location: Downtown, 200 Lee Barton Drive, Austin, TX 78704 Map
Phone: (512) 473-3700
Price: $22-$35
Hours: Mon–Thurs 5pm – 10pm, Fri–Sat 5pm – 11pm, Sun 5pm – 10pm
Food (8/10)
(7/10) Crab Cake
Texas lump blue crab, Napa cabbage slaw topped with chipotle lime aioli. This very small crab cake was deliciously well-blended, with a beautiful presentation.  It is refreshing that they use very little filler in the crab, and the aioli dressing played well with the crab-meat and cabbage. In one bite, there was something in this dish that set our mouth on fire. We had to down a few pieces of bread from their complimentary basket in an attempt to douse it. When we asked the waiter what the mystery ingredient was – he said he didn't know and that it could have been a hidden jalapeno pepper. Yikes!
(8/10) Hawaiian Uku Halibut
Honshimeji Crust, charred asparagus, with black truffle vinaigrette.  In case you are not familiar with halibut, this fish is semi-firm and has a hearty consistency.  The honshimeji (mushroom) crust added a subtle crunch, which made this dish even more exciting, The vinaigrette allowed enough of the halibut's natural flavors to come through without being too obtrusive.  The asparagus was cooked just right and was not bitter at all. In fact, we were addicted to the asparagus because it absorbed some of the truffle vinaigrette.  We found ourselves wishing that the entrees came with larger sides. If you are looking for a light, yet satisfying meal, order this one just for the halibut (pun intended!)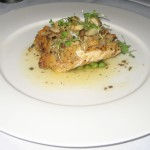 (9/10) Filet Mignon
Mesquite grilled filet with manchego red onion crust, with truffled fingerling potatoes and wild mushrooms. It can be challenging to create an interesting filet mignon – but Paggi house prepares this dish perfectly. We ordered it to be cooked medium and were extremely pleased with the outcome! It was tender, juicy, and is making our mouths water as we write this review. The filet was accompanied by a deliciously tangy sauce with plenty of tasty mushrooms, and the manchego crust was a great topper. Our compliments to Chef Shane Stark.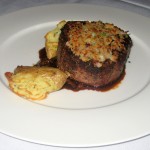 (7/10) Bread Pudding
Macerated berries and espresso ice cream accompany this delicious bread pudding. Since bread pudding is one of our favorites, we had to try it here. It did not disappoint. The bread was moist, with a thin layer of some kind of cream in it. The espresso ice cream was a lovely touch and added a yummy layer to this dessert. There weren't many berries but the few that we ate were fresh and also went well with the bread and ice cream combination.  Gumbo's is another restaurant that serves a marvelous bread pudding!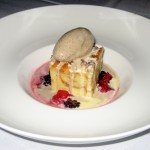 (5/10) German Chocolate Tartlet
Filled with Callebaut ganache and comes with smoked caramel ice cream on the side. The slightly thick crusted, Swiss bittersweet-chocolate and coconut tart is decent.  Aside from being very tiny, the smoked caramel ice cream tasted really odd to both of us. Usually we love caramel…perhaps it was over-smoked?! The hot, gooey chocolate was rather delicious but the crust was overpowering. We will try the Peach Melba next time.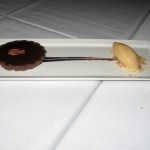 Service (8/10)
One word can easily sum up the service here – topnotch!  We had reservations for a Saturday night and were greeted by the hostess with a friendly smile, then seated immediately.  The young waitstaff is eager to please, and delivered smooth service without hovering or rushing us.  You will notice that several people will be taking your order or serving you, but they are all efficient. They pay meticulous attention to detail and it shows. Our only complaint is as follows. We came for a special occasion and there was a party of six near us whose two children kept running amok and playing with flashlights. We tried to tune them out but it was difficult at times, and wished the waitstaff had asked the parents to watch over them. Ideally, it should be taken into consideration that other patrons might be dining out for a special evening – especially when it is an upscale restaurant.
Ambiance (9/10)
Paggi House is located downtown, and has complimentary valet. For those with mobility issues – there's an option to take an elevator instead of using the stairs to reach the entrance.  It's good for couples or groups, and they offer a unique Sunday brunch and also daily happy hour. You are first greeted by a swanky patio with several plush couches and tables and a sexy Miami vibe (without the pretentiousness).  The outdoor porch offers a spectacular view of the Austin skyline.  The atmosphere is elegant and warm, yet fun and relaxing.  There is also a sunken bar area in the back with mounted televisions. Inside, the ambiance is a sophisticated mix of old and new décor. Two dining areas have dark oak floors, lit ceilings, large paintings, elaborate fireplaces, black leather chairs, and gorgeous black glass chandeliers. Our one gripe is that the air conditioner kept blasting cold air onto us every ten minutes! Regardless, Paggi House is undeniably charming and inviting. When you combine attentive service and innovative culinary delights to that medley, you will be on cloud nine!