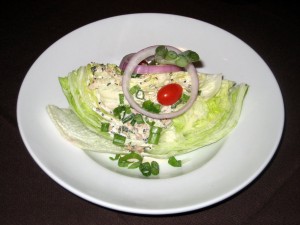 Restaurant: Perry's Steakhouse & Grille
Location: Downtown, 114 West 7th Street, Austin, TX 78701 Map
Phone: (512) 512-474-6300
Price: $20 – $45
Hours: Mon-Thu 4pm-10pm, Fri 11am-11pm, Sat 4pm-11pm
Food (7/10)
(7/10) Wedge Salad
Iceberg lettuce topped with red onions, green onions, tomatoes and a buttermilk vinaigrette dressing. The wedge of lettuce tasted fresh, and the onions and tomatoes spruced it up a bit. Buttery vinaigrette sounds like an oxymoron but it tasted pretty good. It wasn't bursting with flavor, but it was a traditional wedge salad that jump-started our appetite.
(8/10) Caesar Salad
Romaine lettuce tossed with parmesan cheese, spicy pumpkin seeds and a caesar vinaigrette dressing. This Caesar salad was delicious, and the spicy pumpkin seeds were a nice touch. It had just the right amount of cheese and dressing on it. There were a few anchovy strips in the salad. We know anchovies are usually salty due to the curing process, but these ones were way too salty. If you had a bite with fish in it, none of the other flavors were able to shine because it stole the spotlight!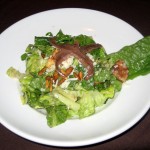 (4/10) 8 oz. Filet Perry
Filet mignon topped with colossal lump crabmeat and herb-garlic butter, with steamed asparagus. We asked for the filet to be cooked medium-rare. When our dish arrived, it was medium on the inside, and burnt to a crisp on the outside. We tried eating a bite or two but it barely had any flavor, and we were very surprised to find several fatty parts. Besides that, the outside was barely edible. So we mentioned it to our waiter and they brought out another one. The new filet was cooked medium-rare and was not burnt, but all the other issues remained. It didn't even seem like it was seasoned with salt and pepper, and the herb-garlic butter seemed non-existant! It was less fatty though, for which we were thankful. The crabmeat was fresh, but also bland and watery. It is sad and rare (no pun intended!) when the sprigs of asparagus end up tasting better than the steak, but this seemed to be the case on this particular night.
(8/10) Signature Pork Chop
Cured, roasted, slow-smoked, and caramelized and served with whipped potatoes and homemade applesauce. This gigantic portion of meat more than made up for the disappointing filet. It is so huge that it's brought out on its own table. Our waiter carved it beautifully in front of us, and let us know which part of the chop was best eaten first. The marbled "eyelash" is the juiciest and most tender part of the three parts. Keep in mind that it is fatty since it contains the most flavor. But it has a delightfully crisp, caramelized edge that is to die for. The succulent ribs are divine and just melt in your mouth. Since the tenderloin was slightly dry, the applesauce helps to moisten it and adds fun dimension to the pork. The applesauce was good, and the whipped potatoes had a nice texture but could have been more flavorful. This spectacular pork chop could easily feed two, and you would still have some leftovers to take home! We wanted to see what the hype was about, and we were more than satisfied. If you are on a budget, Perry's offers a slightly smaller version of this chop during their Friday lunch.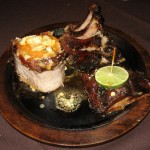 (7/10) Dessert Trio
Hazelnut praline cheesecake, grand marnier chocolate truffle and vanilla bean crème brulee. This trio had big shoes to fill since they were following the pork chop! The trio had two bites of each dessert, and for us it just wasn't gratifying. The cheesecake and crème brulee were both creamy and delicious. The truffle lacked in presence – but it was decent. The inside was decadent but the outside tasted too orangey. The good thing is since it's a sampler, we know which one to order in its entirety when we go back.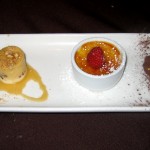 Service (5/10)
We dined at Perry's on a weekday evening for Restaurant Week. We made reservations online in advance so we were seated promptly upon arrival. Our waiter was friendly and knowledgeable about the menu. Since it was our first time dining here, we had many questions that he patiently answered for us. As we mentioned earlier, our filet did not come out as advertised. We mentioned this to the waiter, and he offered to take it back without any fuss. About halfway through the meal, the lights above our corner table went out, and it became very dark in our area. Our waiter gave us an additional candle to put on our table, but it was not sufficient. In the meantime, they several employees surrounded us and were looking into the situation. It was resolved about twenty minutes later.  The staff was helpful and professional during this snafu. At the end of our meal, we paid our bill and decided to take a leisurely stroll around downtown. While on our walk, one of us began feeling nauseous and stomach cramps. This ended in unpleasantly, where all the food came back out the way it came in .  Obviously, something we had just eaten caused this.  Since our car was still with the valet, we had to return to the restaurant. We spoke with the manager to alert him to what happened and to see if anyone else experienced this problem.  However, this manager was unsympathetic and unprofessional. He said it is impossible to get sick from food that quickly and that it takes a minimum of 18 hours (how absurd).  He also said that he stands by their "product" and that there is no way that his food caused this.  He completely blew us off and offered no assistance. The next day, I called the restaurant and spoke to a different manager that was much more open-minded. He apologized for our horrible experience and offered a complimentary meal the next time we decide to dine with them.  This is how we expected to be treated the previous night, and thus we were not happy with the service.
Ambiance (9/10)
Since Perry's is located downtown, there is valet and paid parking lots available. The outside is unassuming, but the inside is huge! The towering ceilings, chandeliers and elegant décor is stunning. It is pretty dim inside, and as the night progresses the lights fade even more. There are six adjacent dining rooms, including some private rooms and a massive steel vault door from during the banking days. There is a pianist on the first floor, near the bars. He was tickling those ivories beautifully, and the melody could be heard throughout the restaurant.  Perry's is great for any occasion (especially a romantic dinner date!) and can accommodate large groups too. Even though it is busy and packed, a tranquil atmosphere surrounds you while you dine. All in all, we would come back for the impressive pork chops, but it will be a while before we go back.