Restaurant: Ranch 616
Location: Downtown, 616 Nueces St, Austin, TX 78701 Map
Phone: (512) 479-7616
Price: Lunch $7-$10, Dinner $15-$20
Hours: Mon-Fri 11am-2pm, Sun-Thu 5pm – 10pm, Fri-Sat 5pm-11pm
Food (6/10)
(7/10) Crispy Oysters (Appetizer)
Crispy Gulf Oysters served with chipotle tartar sauce, green goddess, and a pico de gallo garnish. This specialty of Ranch 616, has been named the "Best Oysters of the South" by Southern Magazine and received numerous rave reviews on other websites. With all this hype, we had no choice but to give it a try.  The order came with a dozen pieces about the size of a small shrimp so it is enough for a couple of people to experience. The fried batter of the oysters were delicious and the inside was juicy and had a mushy texture. If you are scared to try raw oysters, this might be a good place to start! We did like it, but feel it did not live up to all the hype. The two sauces were equally delicious.
(6/10) Camerones Rellenos (Appetizer)
Apple Wood smoked bacon wrapped shrimp, stuffed with cilantro and serrano jack cheese. This is an appetizer we have not come across very often and decided to give it a try. This dish matches its yummy sounding description. The bacon was soft, tender, and flavorful. However, it was not overpowering and we could still taste the shrimp. We could barely taste the cheese, perhaps it was just for texture? Now the bad….As you will notice from the picture, this appetizer came with a paltry 4 pieces of shrimp and the presentation was sub-par. There was much more salad garnish than shrimp and the pieces were poorly placed on the plate. That may sound nit-picky but since the flavor was less than inspiring, we thought presentation might help a bit. We would not spend over $8 for this tiny appetizer.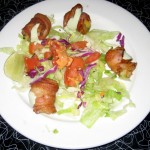 (6/10) Tenderloin 616
Your choice of ancho honey glazed Pork Tenderloin or Beef "Petite" Tender, served with roasted poblano mashed potatoes, topped roasted corn and portabella mushrooms. We chose the beef option, but do not let the word "petite" scare you away. The pieces were sliced in small pieces but there was plenty of them. The beef was very tender and not fatty. The flavor was light and subtle, but good. The mashed potatoes were creamy and complemented the beef well, but the mushrooms seemed out of place. The presentation of this dish is scary, but luckily the restaurant is dim. Overall, this dish was decent but we've had better tenderloins around Austin.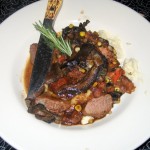 (5/10) Tilapia Tiger
A cilantro basil pesto baked fillet of Tilapia topped with pineapple pico, served over poblano mashers with four crispy Tiger Shrimp and a sautéed vegetables. With our tummies growling, we wasted no time digging into this dish. We took our first bite and thought to ourselves, "What an interesting texture of fish….it feels and tastes like potatoes." Well, we realized that the fillet of fish is sitting on top of the mashed potatoes. For an $18 dish, we figured they would want to keep it separate so people can enjoy the succulent flavors. However, this all made sense after we carefully separated a piece of fish and tried it by itself. It had NO flavor whatsoever and they tried to cover it up by making you eat the potatoes with it! But seriously, the fish was one of the most bland we've ever had but the fried shrimp and sauce that accompanied it was excellent. We wish the entire dish was just shrimp. We caution you to stay away from this one.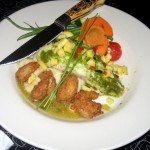 (5/10) Ghiradelli Chocolate and Pecan Brownie
A Ghiradelli chocolate brownie with Texas pecans served warm with a scoop of Mexican Vanilla ice cream and chocolate sauce. As you know from our other reviews, we love chocolate. Our waitress informed us that that this is the most chocolaty and rich dessert on the menu so we couldn't pass it up, especially when we saw the "Ghiradelli." When we first laid our eyes on this massive brownie, our mouths began to water and we eagerly tried a bite-full. You know the saying that looks can be deceiving? Well…in this case they were absolutely right. The top layer of the brownie was hard and crispy and the inside was dry. There was no fudgyness or ooey-gooeyness that makes a brownie heavenly. This was not a restaurant caliber brownie and in fact, HEB has much better ones – really!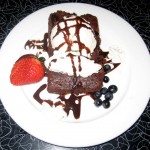 (9/10) Chocolate Silk Tort
A very rich and dense flour-less tort made with Callebaut chocolate in a pecan praline crust, finished with whipped cream and chocolate sauce. It is a shame that we had to wait this long, but alas – a dish worth raving about. They were not kidding when they said very rich and dense. This is easily the most dense chocolate we've had. In fact it was a struggle to cut a piece without the fear of flinging it across the room. It was so rich that you'll get cavities while savoring the chocolate melting in your mouth. We promise you'll be in heaven when you eat this chocolate delight. This is one of the rare times that serving a small portion is actually a good thing. Wow!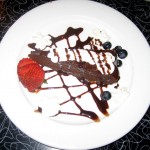 (5/10) Fried Pie of the Day
Two puff pastries filled with fresh fruit of the day and served with Mexican Vanilla ice cream. This dessert is big enough for 2-3 people and comes with plenty of yummy ice cream. Like the crispy oysters, this is also a specialty of Ranch 616. The fresh fruit of the day was peach which we usually like, but weren't big fans. About one-third of this triangular pastry was just "puff" and the rest was modestly stuffed with plain fruit. Also, the end pieces were very hard. If you are looking for something light in flavor then get this, otherwise stick with the tort.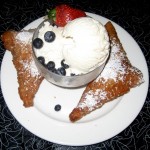 Service (6/10)
Our party of four dined here on a bustling Friday night. Fortunately we happen to make reservations, and were promptly seated. We did notice during our meal that occasionally was no host/hostess to greet and seat patrons, and they would be waiting a while. Our waitress was semi-friendly, but perhaps in charge of too many tables because she was distracted and rushed. It would have been great if she checked up on us once during our dinner, but again the place was packed. Ranch 616 does give out complimentary warm biscuits, with butter and honey on the side.  Delicious!  Near the end of our meal, we mentioned to our waitress that our Ghiradelli Chocolate Brownie was dry and hard (after one bite) and asked if we could have the Chocolate Silk Tort instead. She was gracious and brought it out without any attitude. Overall, the service was solid for a busy evening.
Ambiance (5/10)
Ranch 616 is located downtown, so parking can be challenging. If you are lucky, there is a small lot at the back of the restaurant where parking is free.  This restaurant does not have an upscale appearance, but it does embody that low-key, kitschy Austin vibe. It's akin to a swanky 1950's style diner with décor consisting of old advertisements, photos, and wall-mounted taxidermy. Ranch 616 is pretty tiny and dark inside, therefore it feels uber-crowded.  Sadly, our elbows and chairs were bumped frequently by waiters and other patrons. There is some bar seating, an outdoor patio with a few tables, and a casual seating area surrounding a cozy fire-pit, for those cool, crisp nights. It is extremely noisy – our party of 4 could hardly hear each other without leaning over the table. The food is nothing to write home about and largely lacked the wow factor – especially considering the high prices. This may be a good place to eat before a boisterous night out with friends.