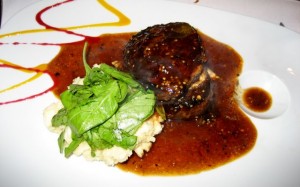 Restaurant: Restaurant Jezebel
Location: Downtown, 914 Congress Ave Austin, TX 78701 Map
Phone: 512-499-3999
Price: $20-$35
Hours: Mon-Thu 6pm – 11pm, Fri-Sat 6pm – Midnight
Food (8/10)
(7/10) Roasted Chilean Sea Bass with Maine Lobster
The sea bass has a great texture and tastes fresh. The lobster was a bit chewy but complemented the fish well.  We usually find seafood on the bland side but the entire dish was spiced just right – with mango and curry sauce.  The dish included a side of mashed potatoes as well.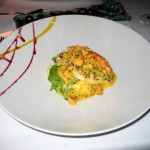 (10/10) Pan Seared Tournedos of Filet Mignon
This dish is fabulous!  It's prepared with truffled goat cheese and tomatillo demi.  We ordered the steak 'medium' and it was cooked to perfection.  It came out piping hot, juicy and with a slightly spicy seasoning.  The filet mignon also comes with a side of mashed potatoes.  We are picky steak eaters, but this one is on our top 3 list.  Just thinking about this meal is making us want to drive downtown to order it right now – the flavor is forever embedded in our memory.
(6/10) Warm Underbaked Chocolate Torte
The waitress recommended this dessert for two and stated its well worth the 15-20 min preparation time.  Although large in size, it fell short of our expectations.  The liquid chocolate inside the torte didn't taste too chocolaty.  We asked for some cherry sauce as a topping and that helped bring the chocolate flavor out.  The torte came with 2 generous scoops of vanilla bean ice cream which balanced the warm torte.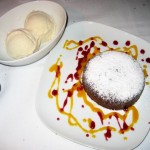 Service (8/10)
The wait staff at Restaurant Jezebel is very polite and down to earth.  They were helpful with suggestions and checked on us just the right amount. Although it was busy (Saturday night) they did not rush us along. The service was on par with this caliber restaurant, but we wish they had valet since parking can be a challenge.
Ambiance (8/10)
The interior has an upscale New York-ish feel to it.  It's intimate and very romantic with cozy candlelit tables with real china and powerful artwork (nude paintings).  The walls look unfinished but that is the look they're going for – comparable to a small "old world" European restaurant.  There is soft jazz music in the background which adds to the romantic mood. Jezebel seems better for a group of 2-4, as anything larger would be too loud for the patrons dining next to you.  Parking can be challenging because it is downtown.  That won't deter us from going back one day soon!