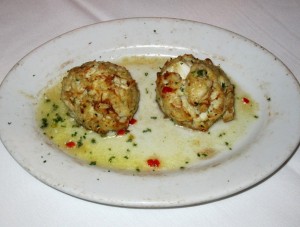 Restaurant: Ruth's Chris Steakhouse
Location: Downtown, 107 W. 6th Street, Austin, TX 78701 Map
Phone: (512) 477 – 7884
Price: $20 – $40
Hours: Mon-Thurs 5:30pm – 10:30pm, Fri-Sat 5:30pm – 11pm, Sun 5:30pm – 10:00pm
Food (7/10)
(8/10) Sizzlin Blue Crab Cakes
Two jumbo lump crab cakes with sizzling lemon butter. This is one of our favorite crab cakes outside of Maryland. Usually, other restaurants deep fry the cakes and load it up with so much filler that you can't even taste the crab. However, this is pure crab at its finest. It was cooked perfectly with mild seasoning, and the lemon butter is mouthwatering!
(7/10) French Onion Soup Au Gratin
Typical of French onion soups, there is a piece of bread smothered in swiss cheese in the middle of the soup. This dish came out at the right temperature to enjoy – hot, but not too hot. The flavor was delicious but similar of other French onion soups we have had. Ruth's Chris is generous with the au gratin portion which added some extra oomph to each bite. This would be an excellent soup to order, especially on a cold wintry day.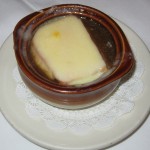 (5/10) Filet
12 oz. cut of corn-fed Midwestern beef. This restaurant is famous for their steaks and for years we have heard people rave about this place. We admit we had high expectations going into dinner, but we did not let that affect our rating. First off, notice the presentation of the filet in the photo. The cut was an irregular shape, with an uneven amount of char, and served on a small plate. The exterior of the filet is usually packs the most flavor because of the seasoning and the char. This one however was pretty plain. And as we got deeper and deeper into the center, the flavor vanished completely. We had to dip every bite into the sea of butter on the plate, but it was still lacking. Needless to say, we were shocked at the poor execution of this dish. In terms of tenderness, this filet was about average when compared to other restaurants. One thing the chefs did get right is that it come out cooked exactly how we ordered it (medium-rare). Honestly, if you're craving a juicy, flavorful steak, there are quite a few other restaurants we'd recommend. El Arbol and Eddie V's are both wonderful choices.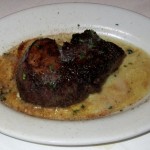 (9/10) Stuffed Chicken Breast
Oven roasted double chicken breast stuffed with garlic herb cheese and served with lemon butter. This is not your average chicken dish. It is ah-mazingly delicious. And it is a generous portion too! This chicken is stuffed with 4 different cheeses and sits on top of butter and more cheese. Usually chicken breast is a healthy option at restaurants – but not this one! But it is so worth it – the seasoned skin has so much flavor, and the cheeses compliment the chicken really well. We found a few pieces of chicken breast that were dry, but we just dipped them into the butter-cheese and voila – all was good again.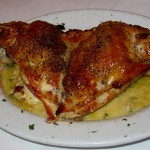 (8/10) Salmon Filet
Hand-cut North Atlantic Salmon – available broiled or with blackened Cajun spices. We chose the blackened Cajun spice version and were not disappointed. The salmon was juicy and tender and almost melted in our mouth. Because of this, we devoured it pretty quickly and it did not seem filling at all. It would have been great to get a few fresh veggies with this entree. The spices were delicious, and it was only a tad too salty. This dish comes with a classy little half lemon. We squeezed a bit on our fish and it enhanced the flavors even more, and balanced the salt content. This fish was made very well and we highly recommend you try it – especially if you enjoy eating out but are trying to pick healthier options.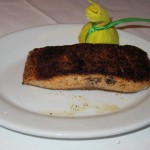 (6/10) Divine Chocolate Cake
Chocolate cake with raspberry cream cheese frosting & vanilla ice cream. This was very similar to eating an extra large cupcake. The cake was moist and slightly fudgy and the thick frosting complemented it pretty well. The ice cream was rich and creamy, and the raspberry sauce was a nice touch. There was nothing wrong with this dessert itself, but we expected more creativity from a restaurant of this caliber. This is the type of dessert they would serve at a cafe.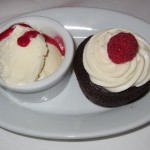 (5/10) Service
We dined on a weekday evening during Restaurant Week. We had made reservations and only had to wait a few minutes before being seated. Our waitress came out and took our drink and appetizer orders. Not only did she make things confusing, she used a condescending/loud tone with us from the get go. We noticed that the couple next to us didn't seem too pleased with her either. We understand that waiters are only human and have bad days, but when you are in a service oriented field at an establishment such as Ruth's Chris, it's important to remain composed and be professional. Our food did come out in a timely manner. A member of the waitstaff came by often to refill our glasses often which was great, but we had to remind him each time that we preferred it without ice. It's a very small detail, but we've been to many casual restaurants that seem to pay more attention to their patron's requests. While waiting for the valet to bring our car around, a manager happened to ask us about our experience. We told him the truth, and he listened carefully and said he would address our concerns. So that was definitely a plus!
* Update June 11, 2011: We dined here a second time and had a much more pleasant experience. We had a different waitress this time and she was very personable and friendly. The complete dining experience from the food to the service was top-notch.
(6/10) Ambiance
Ruth's Chris is located downtown, so valet and parking garages are your best options. Or you could get lucky and find street parking. The ambiance was underwhelming and didn't feel as classy as a pricey steakhouse usually feels. Perhaps they are different in every city, but this one could use a few touches. The ceiling lights were in a repetitive pattern – a round light in a square area. We didn't expect the restaurant to be so well lit even late at night, so it doesn't exude a romantic, elegant vibe. There are several rooms, including two lounge/bar areas in the front. Seating accommodations include casual cafe style booths and tables with nice linens. The tables are not too close together so diners have adequate privacy. The dimly lit lounge area with modern sofas and candles looked beautiful, especially when compared to the rest of the restaurant. Ruth's Chris would be good for couples or groups. We will give it another try one day, but unfortunately we're not in a hurry to go back.