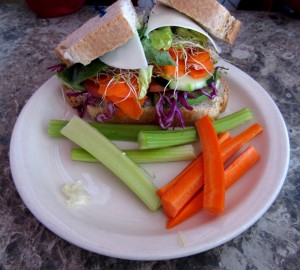 Restaurant: San Francisco Bakery & Cafe
Location: North Central, 2900 W Anderson Ln, Ste L, Austin, TX 78757 Map
Phone: (512) 302-3420
Price: $6 – $8
Hours: Mon-Fri 7am – 6pm, Sat 7am – 3pm
Food (6/10)
(5/10) Avocado & Fresh Vegetable Sandwich
Avocado, lettuce, tomato, alfalfa sprouts, marinated carrots, red cabbage, cucumber, provolone and mayonnaise. We ordered this sandwich on wheat bread. All sandwiches come with either chips or carrots and celery sticks. This vegetables in this sandwich were fresh, but there wasn't enough avocado on it.  It was difficult to eat this sandwich as it was very large – so you have to compress it and try not to let the insides fall out. Ask for extra mayo on the side as this sandwich is dry and bland.
(6/10) Grilled Eggplant & Veggie Sandwich
Eggplant, zucchini, yellow squash, & bell pepper, all grilled and topped with melted provolone & pesto sauce. The eggplant was slightly bitter and had lots of seeds, but the zucchini and bell pepper were good. The cheese melted nicely over the vegetables and the bread was soft. The pesto sauce was not flavorful, but was also probably on the healthier side and contained less oil.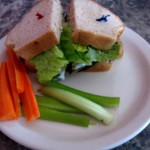 (7/10) Italian Ham & Genoa Salami Sandwich
Cappicola, peppered ham, genoa salami, lettuce, tomato, Italian dressing & provolone. This sandwich was more flavorful because of the salami and ham. We ordered this one on a baguette, and it was a little tough. Luckily, this sandwich did have a good amount of dressing on it. If we went back we'd order this one and then try something from the bakery.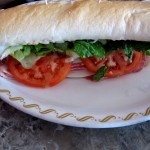 (6/10) Santa Cruz Grilled Chicken Sandwich
Marinated grilled chicken breast, bacon, lettuce, tomato, alfalfa sprouts, provolone & ranch dressing. We ordered this one on sourdough bread and the bread was good. The chicken was cooked well, and this sandwich has a good amount of sprouts and veggies on it. Overall a messy sandwich, but a fun one too.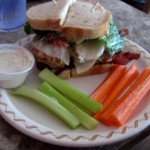 (6/10) Service
We dined on a Saturday afternoon for lunch. You place your order at the counter, and they bring it out to your seat. When we asked them to toast the bread on one of our sandwiches, they said they couldn't do that, but didn't offer any further explanation. The cashier was efficient and read back our order correctly. We got our own drinks, napkins and silverware. Our food came out about 15 minutes later, which was fine considering how packed it was. When we asked for some extra pesto sauce, it took the server 10 minutes to bring it to us. We enjoy supporting local businesses but did wish the staff was friendlier in their interactions with the customers.
(7/10) Ambiance
San Francisco Bakery & Cafe is in a plain, unassuming building. The inside looks like a regular cafe. A few framed pictures adorn the red walls. There are plenty tables and chairs with outdoor light streaming through. The menu is written on the chalkboard behind the counter. Nothing stands out about the decor, but the inside of this eatery is well-maintained and clean. We've been to a few sandwich shops in San Francisco, and this place definitely has the healthy food aspect down, but the sandwiches could use a little more flavor.