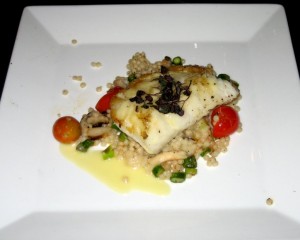 Restaurant: Shoreline Grill
Location: Downtown, 98 San Jacinto Blvd, Austin, TX 78701 Map
Phone: 512-477-3300
Price: $21-$44
Hours: Mon-Thu 11am – 10pm, Fri 11am – 11am, Sat 5pm – 11pm, Sun 5pm – 9pm
Food (8/10)
(8/10) Chilean Sea Bass
Pearl couscous, wild mushrooms, asparagus, and meyer lemon butter. Chilean Sea Bass is one of our favorite dishes to order at upscale restaurants because it is always mouthwateringly good, and Shoreline Grill lives up to the challenge. The sea bass is a thick, juicy filet that is cooked to perfection. The fish is very soft, but the outside has a desirable crispy texture. The lemon butter was mild and allowed the natural flavors of the fish to come through. The couscous had small bits of asparagus and a few mushroom slices. This pearl couscous is yummy and complements the fish very well.
(8/10) Petit Filet
Broccolini, mashed potatoes, and lobster hollandaise. This dish is a special creation for their Valentine's Day menu and we could not pass it up. Their everyday menu does have a petit filet, but has a demi glace rather than lobster hollandaise. We ordered the filet cooked medium, but it was cooked medium-well since there was no pink in the center. Even so, we were impressed by the tenderness of the filet. The 6 oz. filet was topped with a hollandaise sauce which made us swoon! Also included were 3 tiny bits of lobster which is barely worth mentioning. The flavorful broccolini is a great side item for this dish and the mashed potatoes were plentiful. This entree is an excellent choice but beware of the "petiteness" of the filet.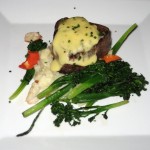 (9/10) Chocolate Mousse Cake
Three layers of dark chocolate, chocolate cream, and candied cocoa nibs. A chocolate lovers dream! This is one of the richest chocolate desserts we've ever had – and we consider ourselves chocolate connoisseurs. There are multiple layers of rich, heavenly, creamy, cool, chocolate. What separates this from other rich desserts is that this will not leave you feeling sick from a sugar rush. Our only complaint is that for the price, they should give us a decent amount instead of a minuscule piece!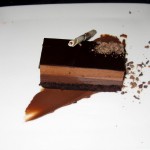 Service (8/10)
We dined at Shoreline Grill on a busy, special occasion evening. We had made reservations one week in advance, but we were not seated until 20 minutes after our reservation time. This was understandable since it was Valentine's Day. Our waitress was friendly and went above and beyond to make sure our night went smoothly. When she asked how our wine was, we told her one wine was great and the other wasn't what we expected. On her own, she offered to take back the wine and replace it with another selection. They gave us as a gift a wine opener, we were very grateful for this since she could have easily done nothing. It did take longer than usual for our entrees to come out, but we were not in any rush. However, this may be something to keep in mind when dining on a regular day. Another small gripe is that for the caliber of restaurant, we expected the crumbs to be wiped off our table and a new set of silverware, but that didn't happen. Overall, the service was still pleasant.
Ambiance (6/10)
Shoreline Grill is located in Downtown Austin, next door to the glamorous Four Seasons Hotel. We glanced over the menu and the prices before dining here and expected an intimate and romantic dining experience, however this was not entirely the case. Shoreline is a large restaurant with several indoor, outdoor, and bar seating sections. The indoor areas are spacious, but the tables are quite close together. Expensive and beautiful antique rugs adorn the walls, but the feeling is more on the casual-side than fine dining – partially due to the lighting. The bar is small and feels crammed with just a few other patrons there. However, the outdoor seating will give you lovely views of Town Lake during the daytime. Valet parking is available for $6, but there is a free self-parking garage (Shoreline validates the ticket) across the street. Overall, we expected a more upscale vibe considering the food prices, but that won't stop us from returning to dine here.