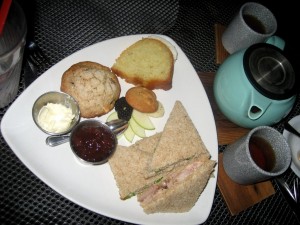 Restaurant: Steeping Room
Location: Domain, 11410 Century Oaks Terrace Suite 112 Austin, TX 78758 Map
Phone: (512) 977-8337
Price: $7 – $10
Hours: Mon-Thu 8am – 9pm, Fri & Sat 8am – 10pm, Sun 10am – 7pm
Food (9/10)
(8/10) Lapsang Souchong Chicken Salad Tea Sandwich
Tender tea braised natural chicken mixed with celery, green apples, scallions and
dressed in lapsang vinaigrette. This is a thin sandwich with the crusts off. The wheat bread was soft and the chicken was juicy and very delicious. We only wish this dish came with more sandwich halves.
(7/10) Pork Tenderloin Tea Sandwich
A Malaysian inspired marinated pork tenderloin, with cilantro, scallions
and chili mayo. This sandwich is pretty good too, and again has a similar presentation. The pork is tasty and just a pinch dry. Tell you the truth, the inside tasted similar to the chicken salad sandwich!
(9/10) Lemon Lavendar Tea Cake
One word – scrumptious! Think of the lemon pound-cake from Starbucks but even better. It is moist and the thick layer of icing on top adds the perfect sweetness to this dessert.
(8/10) Plum Scone and Almond Tea Cookie
The scone is served with jam an clotted cream on the side. The scone is sugary and has a good texture, but not super flavorful. We couldn't taste the plum in it and definitely needed to dip it into the jam. The almond cookie is tiny and fantastic! Power packed almond taste and just melts in your mouth…mmmm!

(9/10) Crème Brulee Tea (under Rooibos section)
Steeped to perfection with sweet notes of toasted caramel and rooibos. Rooibos is a South African shrub that is often used in herbal teas – it has a sweet taste and is high in antioxidants. This is a soothing dessert tea and yes, it really did taste like crème brulee. We happily finished every last drop. Get the whole pot and not just a cup because if you are a tea enthusiast like us –  it will be worth it!
Service (8/10)
We sat outdoors and plopped down at one of the tables. The waitress came soon after to hand us menus and take our drink order. She was polite and attentive. The tea service was nice – they have a little ritual of how they place the pot and cups at your table, then pour you the first cup. Our food came out quickly. The only small gripe may be that we ordered a certain type of scone and found out much later that they were out. But not a big deal. The domain has a stereotype for being uppity due to the high prices, but the staff is pretty friendly at The Steeping Room.
Ambiance (7/10)
Since this quaint restaurant is at the Domain, outdoor parking can be a bit difficult but there are parking lots available too. The Steeping Room a cute place with a small interior, an extensive selection of teas and a fairly decent menu. There is also seating outside, with a large umbrella to protect you from the hot Texas sun.  The food is really good but slightly overpriced.  Keep in mind that location is the biggest factor that influences the high prices here, but it's not as inflated as its neighboring restaurants. It's good for large or small groups, especially for a group of girlfriends because of the delightful ambiance. Add this place to your list!