Restaurant: T.G.I. Friday's
Location: Northwest Austin, 10000 Research Blvd Austin, TX 78759 Map
Phone: 512-345-6410
Price: $6-$13
Hours: Sun-Thur 11am – Midnight, Fri-Sat 11am – 1am

Food (5/10)
(6/10) Sizzling Chicken & Shrimp
This dish is on the "Best of Friday's" section of the menu but it could have been better. It comes with one medium sized chicken breast, a handful of shrimp, onions, peppers, and mashed potatoes.  The chicken is tender and flavorful, however the shrimp is chewy. The mashed potatoes come without gravy, but goes well when dipped in melted cheese (what doesn't go well with melted cheese?!).
(5/10) Southwest Mac & Cheese
When we saw the picture in the menu, we knew we had to get this one, especially since we love macaroni and cheese. The delicious description made our mouth water – juicy fire grilled chicken with creamy white cheddar jalapeno sauce.  However, this this dish did not come as described and was a huge let down.  First of all, T.G.I. Friday's uses penne pasta instead of macaroni. Secondly, they left the chicken in the fire-grill way too long.  The entire piece of chicken was dry and half of it burnt to a crisp. There is no hint of jalapenos and the cheese is not "cheesy" at all.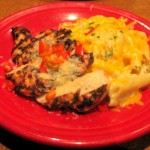 (4/10) Fiery Chicken Popper Sandwich
This sandwich is neither fiery nor popping, and did not live up to its name. Its described as a crispy chicken breast, smothered with cream cheese & jalapeno habanero jelly and topped with jalapenos.  Naturally, one would expect a spicy sandwich but there is no jalapeno kick to it.  They skimped on the chicken and the ciabatta bread was dry and hard. Stay away from this one!
(8/10) Brownie Obsession
T.G.I Friday's finally got something right! If you are a chocolate lover, then your mouth is in for a treat.  The brownie is served warm and drenched with Ghirardelli chocolate-fudge sauce and topped with a delicious scoop of creamy ice cream.  We'll use three words to describe this dish: rich, chocolaty, fudgelicious.  It doesn't get any better than this!
(6/10) Chocolate Peanut Butter Pie
If you are a fan of peanut butter desserts, then this is for you. The pie has a graham cracker crust, a thin layer of chocolate, peanut butter mousse, and topped with whipped cream. It is rich and fluffy, but if you want more substance, get the brownie.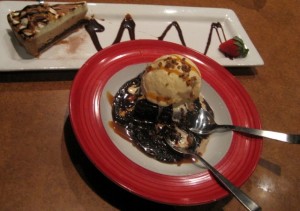 Service (5/10)
It was a slow night when we went so we were seated immediately. The service is mediocre. The waiter checked up on us once or twice, but never refilled our water. Also, since he rang up the bill incorrectly, we were overcharged.
Ambiance (6/10)
T.G.I. Friday's amibiance is similar to that of Chili's – very casual.  The restaurant is large and has plenty of seating in the dining and bar areas.  Parking is sufficient because it is located in a shopping area. If you are looking for a restaurant with a huge variety of food that is good for families or friends, we recommend Chili's or Bennigans.