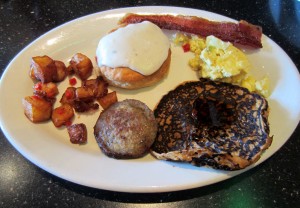 Restaurant: Threadgill's
Location: North Central, 6416 N Lamar, Austin, Texas 78752 Map
Phone: (512) 451-5440
Price: Brunch: $13 (adults) $6 (children)
Hours: Mon-Sat 11am – 10pm, Sun 10am – 9:30pm
Food (6/10)
We are going to review this restaurant a little differently because there are too many small dishes to rate since we dined here for their brunch buffet! This is more of an overall rating.
Some of the better dishes:
Omelet station (good variety of fresh ingredients to choose from, yummy spicy salsa available on the side)
Fresh fruit (strawberries, cantaloupe, watermelon & pineapple)
Sweet potato pancakes (thin, but flavorful)
Garlic & cheese grits (additively delicious)
French toast with powdered sugar (seemed like honey-wheat bread, good texture, mild flavor)
Bacon (nice crunch, good flavor)
Some of the more mediocre dishes:
Migas (bland and cold)
Biscuits and gravy (plain, somewhat firm biscuit, lukewarm gravy)
Regular pancake (thin and plain)
Potatoes (nice texture but bland)
Sausage (average)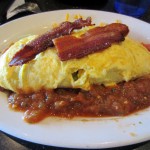 (8/10) Service
We dined around noon on a busy Sunday. The place was pretty full since they were offering a brunch buffet. All of the hostesses were very friendly and we were seated after about 5 minutes. Since there was (great) live music, it was pretty loud in that room. We asked to be seated in the back and asked if they could turn down the speakers just a bit, but they were unable to accommodate that request. The waitresses came by often to refill our waters and remove empty plates. They also gave the children in our group some crayons and paper to color on. The staff at Threadgill's is kind and full of Texas charm.
(7/10) Ambiance
There is plenty of parking available in the lots outside this restaurant. From the outside, Threadgill's looks unassuming. The inside is old, but full of history and has a lot of homey, Southern-style ambiance. Decor consists of wood floors and ceilings, beer signs, and 1960's music memorabilia and articles. This location has evolved from what started out as gas station in 1933. The Sunday we dined, there was a fantastic 3-member honky-tonk, bluegrass group that played the entire time. Threadgill's is one of the oldest restaurants in Austin and is definitely worth checking out at least once.