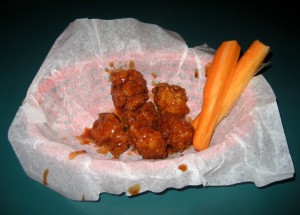 Restaurant: Wings 'n More
Location: North Austin, 1200 West Howard Lane, Austin, TX 78753 Map
Phone: (512) 989-6673
Price: $7-$10
Hours: Sun-Thurs 11am – 11pm, Fri-Sat 11am – Midnight
Food (6/10)
(7/10) Buffalo Style Boneless Chicken Wings
We got this with the honey BBQ and homemade blue cheese dipping sauces. The wings were crispy and tasted plain by themselves. They were also on the smaller side, but we noticed we got 6 wings for the price of 5 so that was a little bonus. We expected the wings to come out temperature hot but they were barely warm. The tangy honey BBQ sauce is yummy, and the blue cheese dip is tantalizingly good. We dunked the wings thoroughly and popped them happily in our waiting mouths.
(7/10) Grilled Chicken Wrap
Marinated chicken breast grilled with bell peppers and onions wrapped in a flour tortilla with lettuce, tomatoes and cheddar jack cheese. Served with curly fries or your choice of side. Some of the fun side items are: corn on the cob, macaroni salad, baked beans, mashed potatos, and sauteed vegetable medley. We opted for the baked beans instead of the fries. The flour tortilla was fresh and soft, and the insides were stuffed solid, and there was a good amount of chicken. One or two of the chicken pieces were chewy. The wrap didn't really have its own distinct flavor, but it was pleasant. It went well with the blue cheese dipping sauce (but then again, what wouldn't benefit from a little blue cheese!) The cup of baked beans tasted sweet and there was plenty of it. It was like a baked bean soup. This whole meal seemed like a healthy alternative to all the fried items on the menu.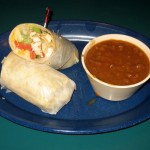 (4/10) Buffalo Burger
Lean buffalo meat topped with hot wing sauce and provolone cheese. Served with curly fries or your choice of side. We chose the sauteed vegetable medley instead. We thought we would try this since we are on a health kick right now and we've heard that buffalo meat is lower in cholesterol and calories, yet higher in iron and protein – so we ordered this as opposed to one of the delicious sounding beef burgers. Well, this may have been one of the saddest burgers we've tried to eat. The meat was bland and a little gamey. The processed cheese and soggy tomatos didn't help either. The toasted buns were the only positive. But the buns were drenched with the oils from the vegetable medley because both came out on the same plate. We could only stomach about half of this mess. On the plus side, the vegetable medley is fantastic. Fresh zucchini, squash, carrots, string beans and broccoli – and a generous amount of it as well. We never imagined a time where we would enjoy veggies more than a burger, but it became a reality at Wings 'n More!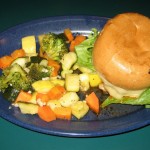 Service (6/10)
We dined on a weekend evening and were seated in a comfortable booth. Our waiter was friendly but also a little doofy and didn't explain things very clearly. Thankfully he did get our order right. Our food came out at good time intervals…appetizer first and then the two entrees. Of course – there was the drenched-in-oil buns incident we mentioned earlier. We asked if we could keep on menu on the table (and it wasn't very crowded so it isn't as if other patrons were short a menu) but they kept trying to take the menu away! Our waters were refilled, and they did check up on us once during our meal. Decent service for this type of restaurant.
Ambiance (6/10)
Wings 'n More is located in a strip-mall, and there is plenty of parking available. The interior has a few rooms, including bar, table and booth seating. The interior is primarily woodsy and well lit. It has common bar decor – nothing over the top. There are a few TV'S that play sports games on them. Sometimes poker tournaments are held at Wings 'n More. The atmosphere is loud and good for groups. We really weren't wowed by any aspect of our dining experience, but nothing went terribly wrong either. You might want to stop by if you are in the area, but don't make a special trip to watch the next big game here.