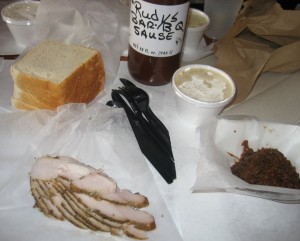 Restaurant: Rudy's BBQ
Location: Northwest, 11570 Research Blvd., Austin, TX 78759 Map
Phone: 512-418-9898
Price: $5-$10
Hours: Mon-Thur 6:30am – 9:30pm, Fri-Sat 6:30am – 10:30pm, Sun 7am – 9:30pm
Food (9/10)
(8/10) Turkey Breast
Most people overlook turkey and chicken at BBQ restaurants and go straight for brisket, ribs, and sausage instead. However, even if you are a hardcore carnivore, you may want to give the turkey at Rudy's a try. The all-white meat turkey breast is very soft, tender, and juicy. Combine it with their special BBQ "sause" and you will be addicted!
(8/10) Spicy Chopped
We tried a sample of this and couldn't pass it up. This is one of the newer items on the menu and is like a "mystery meat". Basically, this is all of the meats that Rudy's offers mixed together with lots of oil and spice. It may not sound too appetizing, but this is our favorite meat dish on the menu. It is packed with flavor with a medium amount of spice. Enjoy eating it plain or as a sandwich using their delicious white bread. Note: If you want to eat healthy, get the turkey instead!
(8/10) Moist Brisket
Wow – another winner! The brisket is soft and tender and has a nice smoky flavor. It tastes even better with Rudy's BBQ "sause." Some pieces were a little fatty – but that's why it is so soft and flavorful. Rudy's has the nutrition information on all their meats – and this is not the one for those of us whose #1 resolution for 2010 is to eat healthier! Luckily – they also offer a Lean Brisket that is not as flavorful as the Moist, but pretty darn good.
(10/10) Cream Corn
The cream corn is the most talked about item at Rudy's and no patron should leave without trying it. This side item is served hot and is perfect for those cold winter days. The gravy is thick and you guessed it – mouthwateringly creamy. It definitely lives up to the hype. By the way, this could be eaten as a dessert because of the sweetness from the corn.
(9/10) Potato Salad
Another side that is very well-made. The texture is creamy, slightly tangy slightly sweet and the potatoes are perfect. This complements all the meats on the menu really nicely. And it's cheap too!
Service (8/10)
With the exception of the cashier that takes your order, Rudy's is a self-service restaurant. Even so, the ordering experience is worth writing home about. The cashiers are enthusiastic and very friendly. For first-time customers, they will take the time to explain the ordering process, answer any questions you have, and offer samples of anything on the menu. They are friendly and knowledgeable too. Don't be afraid to take your time and try out several items on the menu.
Ambiance (8/10)
Rudy's BBQ first opened in 1989 not only as an eatery, but also a gas station, auto-repair shop, and convenient store all-in-one. The idea was to create a "country store" feel which is still maintained today in their 25+ locations. If you have been living under a rock and are not familiar with Rudy's, you may drive passed it everyday not realizing that this is a restaurant because of the gas pumps out front. Inside, there is plenty of tables to accommodate the busy lunchtime crowds. Rudy's has cafeteria-style seating with long tables joined together and a larger area with picnic tables. Limited outdoor seating is also available. This location has a nifty warm water hand sanitizing contraption which can double as a diamond ring cleaner! Also present is a "cutter cam" which allows you to watch the meat cutters in action. It is great for both small and large groups and has sufficient parking around the restaurant. The next time you are craving good 'ol Texas BBQ, try Rudy's because it is affordable, convenient and has a fabulous variety!