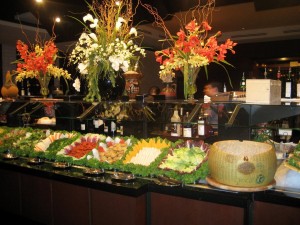 Restaurant: Fogo De Chao
Location: Downtown, 309 E. 3rd St, Austin, TX 78701  Map
Phone: (512) 472-0220
Price: Lunch $26.50, Dinner $45.50
Hours: Mon-Thurs 5pm – 10pm, Fri 5pm – 10:30pm, Sat 4:30pm – 10:30pm, Sun 4pm – 9pm
Food (7/10)
We have to review this one a bit differently since its buffet style and we wouldn't want to overwhelm you by listing every item we tried! Fogo De Chao is an authentic Brazilian steakhouse with 20+ locations in the United States. Fogo features a gourmet self-serve salad bar with over 30 items including fresh cut vegetables, imported cheeses, cured meats and Brazilian side dishes. Our favorites include the prosciutto, smoked salmon, sun-dried tomatoes and string beans. There were only a couple of things we disliked, namely the fresh mozzarella (blah and bland!) and hearts of palm. There is an option to eat only at the salad bar (if you want to skip the meats) – but it's still pricey. This is not your typical salad bar and you will probably go a little wild when you see all the delicious options. However, be careful not to stuff yourself since the main course hasn't started yet!
Now onto the main event…the meats! Part of what makes dining here so unique and exciting is that the meats are brought to your table, sliced, and served by a gaucho chef. These chefs are constantly circulating the restaurant, ready to serve you from their selection of 15 different fire-roasted meats. Choices of meat include: sirloin, filet mignon, ribs, lamb, pork, chicken, etc. This is a dream come true for all you carnivore foodies! We tried about 8 various meats and enjoyed half of them. The rest were tough, chewy, or fatty. One of our favorites is the Picanha (top sirloin) which is tender and flavorful. The chicken leg is juicy and a bit sweet tasting – excellent! The bacon wrapped fillet was a big disappointment. It was so chewy that after trying it, it ended up back on our plate! Fret not though, you will also find ones you like.
It is worth noting that your meal includes limitless cheese bread, crispy polenta, garlic mashed potatoes, and caramelized bananas. Be sure you try all of these as they they are amazing (especially the cheese bread)!
If by some miracle you still have room for dessert, Fogo offers an extensive selection. Being chocolate lovers, we opted for the molten chocolate cake and the chocolate brownie, which are both served with ice cream. The portions are large and both were very rich and chocolaty. These rank in our top-tier of desserts we've had (especially the molten chocolate). Be aware that the desserts are not included in the buffet price.
Service (9/10)
We had reservations and our group was seated promptly. Fogo really knows how to treat their patrons, and they go the extra mile in trying to accommodate and please their diners. Since this is an upscale eatery, one might expect the service to be spectacular and we can honestly say that the service bedazzled us – the waitstaff was outstanding. They were warm, friendly, and well-informed about food items and wine pairings. Without making their presence known, the waiters refilled our drinks, and effortlessly replenished our ever-low supply of complimentary sides. (Again, the cheese bread, caramelized plantains, and mashed potatoes are not to be missed, but save room for the meats and dessert.) It was nice to see that the salad bar was kept meticulously organized and very clean. We never had to flag anyone down, as there always seemed to be a waiter close by who kept an eye on our table in case we needed anything. We noticed that all the waiters collectively took care of all the tables. We felt comfortable and taken cared of…ahhh sweet contentment! At no point during the meal did we feel rushed. The valet was on the slow side, but it was a busy night. Still, Fogo impressed us because the service was phenomenal.
Ambiance (8/10)
Since Fogo De Chao is downtown, there is street parking and valet. In the front, they have some meats cooking slowly in the fire. After walking in, you are greeted with cherry and mahogany colors, which create a classy but warm vibe. There are beautiful chandeliers that bathe the whole room with a soft yellow glow. It feels spacious inside because the tables are not tightly packed. White linens, exposed wood beams and fancy silverware add to the ambiance. Furthermore, the Brazilian decor on the walls is lovely. Combined with the traditional gaucho servers, the essence of a Brazilian steakhouse shines through nicely. Because of the versatility, it is great for a romantic dinner or a large office meeting. This is a place to try at least once, and becomes especially worth it if you go during lunch!