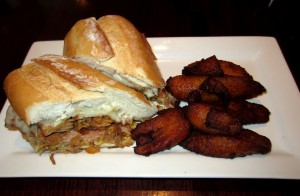 Restaurant: La Sombra
Location: Central Austin, 4800 Burnet Rd, Austin, TX 78756 Map
Phone: (512) 458-1100
Price: $9 – $12 Lunch, $15 – $25 Dinner
Hours: Tues – Thurs 11am – 10pm, Fri – Sat 11am – 11pm, Sun 11am – 10pm
Food (8/10)
(8/10) Cubano Sandwich
Served on toasted bollilos with your choice of fried sweet plantains, papas fritas, yuca chips or mixed greens. We chose the fried plantains. The sandwich includes: pulled pork, honey glazed ham, provolone, whole grain mustard, and house-made pickled cucumbers. The bread was good, and the mustard was a great choice for this sandwich. The pickled cucumbers had a unique and addictive flavor, but the texture of the pickle stood out in a negative way. The way the provolone melted onto the meats made us salivate for more. For a side, we chose the fried plantains thinking we'd end with some sweetness. On the contrary, the plantains were not sweet but they were still perfectly fried. This sandwich really hit the spot for lunch!
(8/10) Enchiladas De Pollo
Braised chicken with corn tortillas with tomatillo salsa, queso fresco, black beans and rice, and traditional Mexican garnishes. The tomatillo sauce was spicy and delicious. Everything on the plate tasted fresh and was bursting with flavor. The chicken was a little bland if you got a piece by itself. The corn tortillas and rice were soft, and there was a perfect amount of black beans on the side. This dish was a bit heavier than the sandwich, and is a winner!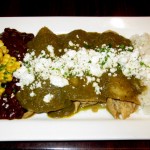 (7/10) Service
We dined at La Sombra for lunch on a Friday afternoon. We thought that this place might be bustling during this time, but we almost had the place to ourselves. As soon as we arrived, we were greeted by one of the waiters and he took us to a table. He took our drink and food orders promptly. During the meal, someone that appeared to be the manager came to check on us to see if we needed anything. He did not seem gracious when we complimented the food, which led us to believe that he has gotten too used to receiving positive reviews. Our other small gripe was it was difficult to get our waiter's attention to ask for the bill. The service was solid, but this was not surprising given the small number of patrons.
(8/10) Ambiance
La Sombra took over the space occupied by the former Sampaio's. The interior is modern with neutral colors, with off-white walls covered with a leafy design. Lots of bamboo accents, billowy drapes, burlap-covered seatbacks, and natural light during the day. There is a small, trendy lounge area as you enter the restaurant. There is a beautiful and large bar area inside and a partially shaded patio outside. Soft music was playing in the background while we dined. Overall, La Sombra has a cool, inviting look. It was great for a quick lunch, and we'll come back during for dinner to try more dishes and drinks.