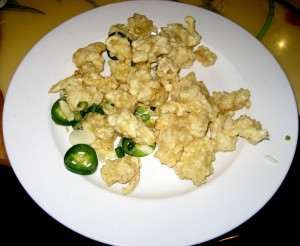 Restaurant: Asia Cafe
Location: Northwest, 8650 Spicewood Springs Rd., Austin, TX 78759 Map
Phone: (512) 331-5788
Price: $8 – $12
Hours: 11am – 9pm, 7 days a week
Food (6/10)
(4/10) Calamari
Fried calamari with jalapeno peppers and green onions. This is one of the worst calamaris we've ever had. First, the batter was completely flavorless and might as well be nonexistent. It didn't even have that greasy goodness that you would expect from a fried dish. Second, the calamari was a bit on the chewy side. The jalapenos and green onions were more for show and did not add anything to the dish.
(6/10) Wonton Soup
Chinese dumpling soup with green onions. This soup was served piping hot which is perfect for those cold wintry nights. The broth had a decent, but mild flavor. Adding some chili sauce to it definitely kicked it up a notch. The dumplings were very large, but also did not have much taste to them. We think there was pork in there, but it was completely hidden. Nothing to write home about here…hopefully we have better luck with the next entree.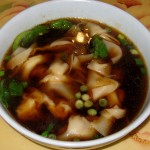 (6/10) Beef w/ Cumin
Stir-fried beef with garlic and onions. This is by far the strongest cumin flavored dish that has touched our palates. The flavor is powerful (perhaps too much), yet addictive. Not to mention, there must be at least 10 cloves of garlic in here too. Be warned, your significant other won't be coming near you for a week! The beef itself was plentiful, as you can see in the picture. However, some of the pieces were dry and quite tough.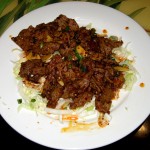 (7/10) Stir Fried Assorted Noodle
Flat noodle with beef, pork, and shrimp. Flat noodles are one our favorite types of noodles and this one didn't disappoint. The noodles were cooked just right and the light amount of sauce was perfect. The portions were huge, although they could have added more shrimp. Like the wonton soup, this dish lacked a distinct flavor and needed some chili sauce.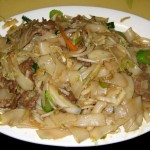 Service (N/A)
Asia Cafe is a self-service restaurant where you order at the counter, pickup your food when your number is called, get your utensils and beverages, and seat yourself. The only "service" here is the person that takes your order and someone to bus the tables after you leave. Since there is very little interaction with the staff here, we will not be rating the service.
Ambiance (6/10)
Asia Cafe is located in a strip-mall in Northwest Austin off of 183. The interior is very simple, consisting of one giant dining area and a small private room. It's clean and well-maintained, with pictures and art on the wall and a flat screen TV. Since we dined here soon after Christmas, they still had a lit tree in the entrance and wreaths hanging. They have large round tables with rotating centers, which are perfect for family-style eating.  Asia Cafe is great for both small and large groups due to the sufficient parking and large eating area. Even though we had a so-so experience with the food, we will definitely be back to try some of their more authentic dishes.