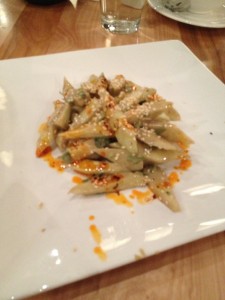 Restaurant: Chen Z Hot Pot and Noodle Bar
Location: North Central, 2700 Anderson Lane, Austin, TX 78757
Phone: (512) 336-8888
Price: $5 – $12
Hours: Mon-Sun 11am – 10pm
Food (7/10)
(8/10) Cucumber Salad with Wasabi Dressing
Fresh cut cucumbers with a wasabi dressing. There's a drizzle of chili oil on the plate as well. The wasabi wasn't overpowering and just had enough kick to it. A lot of flavor in such a simple presentation.
(7/10) Hoisin Crisp Fried Noodles
Egg noodles with shiitake mushrooms, red peppers, bok choy, shrimp, mussels, and cuttlefish. They certainly don't skimp on the seafood with this dish. Fresh and simply stir-fried with a sweet hoisin sauce. The egg noodles were disappointing. Crisp frying the noodles sounded tempting but what quickly occurs is soggy noodles with the sauce and seafood on top. A simple presentation of noodles quickly became a clunky mess. A complete stir fry may have been a better option.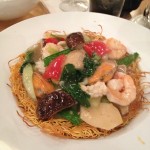 (6/10) Herbal Hot Pot with shiitake mushrooms and spinach noodles
A fun, interactive way to eat. We chose shiitake mushrooms and spinach noodles as our dipping devices. Chen Z is generous with their quantities as the two items were more than enough to feed two. Both items were fresh and one could tell that the noodles were rolled and cut to order. What was lacking was flavor in the broth. I anticipated more of an Asian herbal flavor to the broth but it seemed to be more of a vegetable stock with beans and root vegetables included. The broth was kept nice and hot and did serve the purpose of cooking the food. The three dipping sauces did help in adding some flavor to the dish, with the Chinese BBQ dipping sauce standing out in terms of flavor and spiciness. Chen Z does offer a spicy broth and tomato broth option. Those may be more flavorful for those looking for more bite.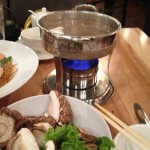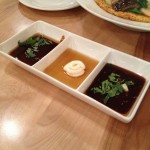 (7/10) Pork/Veg Pan Fried Dumplings
A familiar dish for most. Also known as potstickers, this dish was simply prepared, yet provided great flavor and a good texture contrast. The pork/veg filling was light but packed a lot of pork flavor. The dumpling dough was cooking perfectly, with an 'al dente' texture. It contrasted well with the crispy bits of the dumpling from pan frying. Steamed dumplings are also another option.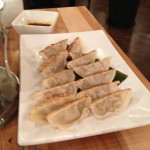 (8/10) Passion Mango Cheesecake
This dish isn't made in-house. There's a passion fruit layer on the bottom with the mango cheesecake, sitting on a graham crust. The passion fruit layer was bright and the mango cheesecake layer was light and airy.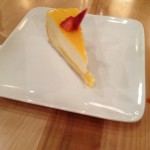 (8/10) Service
We dined on a Friday night. There was about a 15 minute wait for a table but were promptly seated within the time frame given and immediately served water, the lightly dressed veggies and informed of the nightly specials. Water glasses were constantly refilled and the wait staff was professional in checking in on us and giving us our privacy as well. A minor gripe was having the pan-fried dumplings served along with the main courses in lieu of having it served with the beginning courses but that could have been due to a busy night in the kitchen.
(8/10) Ambiance
Chen Z Hot Pot and Noodle Bar is located in a shopping center and is fairly unassuming for the outside. The decor inside has more of a modern vibe to it, with exposed ductwork and high ceilings. The place seemed plenty busy for a Friday night and already seems to have a steady stream of supporters. The kitchen has a large opening to see some of the chefs in action. The wait staff is friendly and attentive. Good quality food at a fair price. With plenty of noodle options, Chen Z seems like a great option for seeking Asian style comfort food.
Reviewed by Shaun, AustinFoodRatings.com