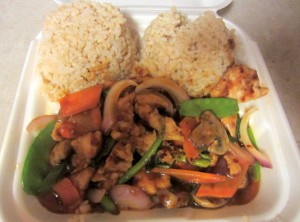 Restaurant: Food Shui
Location: 1700 West Parmer Ln #610, Austin, TX 78727 Map
Phone: (512) 339-4545
Price: $8 -$10
Hours: Mon – Sat 11am-9pm, Sun 12pm-8:30pm
Food (8/10)
(8/10) Thai Basil Bowl
Snow peas, carrots, asparagus, onion, mushrooms, jalapenos and fresh basil stir-fried in a spicy Thai sauce. All entrees are served over steamed jasmine rice with a summer roll. Fried rice and brown rice are available for an extra fee. We chose chicken for this bowl and got plenty of tender juicy pieces. The sauce was very good and had quite a spicy kick to it. There were lots of veggies as well. We opted for the brown rice, and received two generous scoops. We were pleasantly surprised to see that the basil flavor came through. Order this and your palates will be pleased!
(7/10) Lemon Pepper Bowl
Choice of fried batter shrimp, chicken or tofu with onions, jalapenos, bell pepper and black pepper over steamed rice. Served with broccoli and lemon dipping sauce. The cashier told us we could get any meat, and get it grilled or fried. We decided to get fried chicken in this one. Again, these were high quality pieces of chicken – and a good portion too! It was pretty flavorful, and the broccoli tasted fresh. The lemon dipping sauce consists of a small lemon wedge that had pepper on it. We didn't see it in our bag until after we finished our meal. If we order this delicious bowl again, we'll try the grilled shrimp as a healthier option.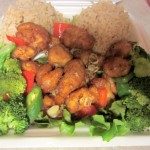 (7/10) Service
We went into Food Shui on a Sunday evening, and were greeted briefly by the friendly cashier. The restaurant was pretty empty. We told her it was her first time and asked for dishes that were bold and flavorful. We placed our order with her and waited for about 10 minutes. We received our to-go order and went home to eat it. Later on, we noticed that the summer rolls that were supposed to come with our entree were not included in our containers. So we called and let them know. Although we did not receive an apology or a solution, we asked if we could come by and pick them up with our next food order. They agreed and said we could pick them up anytime. The service was good, but there is room for improvement.
(7/10) Ambiance
Food Shui is located in a busy strip mall in North Austin. It is casual, clean and modern-looking on the inside. There are track-lights and nondescript pictures hanging on the walls. There are half-booths, and tables and chairs for seating options. When you're craving Americanized Chinese or Vietnamese food and don't want to visit a chain restaurant (such as Panda Express), give Food Shui a try. Sometimes simplicity can be a wonderful thing. High quality Asian food served in a bright and tidy eatery – we'll be back one day soon.