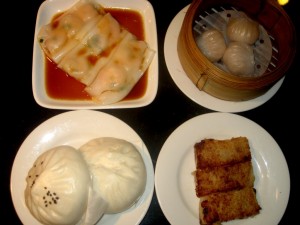 Restaurant: Get Sum Dim Sum
Location: North Central, 4400 N. Lamar Austin, TX 78756 Map
Phone: (512) 458-9000
Price: $6-$10
Hours: 11am – 9pm, 7 days a week
Food (7/10)
(7/10) Dim Sum
We are going to review this restaurant a little differently because there are too many small dishes to rate! This is more of an overall rating. Dim Sum is Chinese cuisine which includes serving food in a steaming basket or small plate. We wanted to mention that our absolute favorite dishes were the chicken Wor Teep (potstickers) and the Law Bok Go (turnip cakes) – we ordered both of those more than once!
Some of our favorite items were:
Har Gau – Steamed shrimp dumpling in wheat starch wrapper
Chicken Wor Teep – Chicken potsticker
Law Bok Go – Pan-fried turnip cake with Chinese sausage, made with rice flour
Stuffed Eggplant – Fried eggplant with shrimp inside, topped with soy sauce
Shrimp Churng Fun – Rice noodle rolls filled with shrimp, served with soy sauce
Cha Siu- Chinese BBQ pork in a puff pastry
We didn't care too much for the following:
Chicken & Mushroom Bao – Steamed chicken and mushrooms in a puff pastry
Siu Mai – Steamed pork & shrimp open-faced dumpling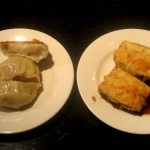 Service (7/10)
At Get Sum Dim Sum, the patrons place their order with the cashier and wait for the food to be brought to them. This is atypical from other dim sum joints where they wheel a cart of food to your table and you choose whatever you like.  We were a bit skeptical when we heard that you have to order off a menu here because of the large number of dim sum options. However, Get Sum did a great job with making the ordering process simple and efficient. Their menu has full color photos of every dish and you notate your choices directly on the menu with a dry-erase marker.  After we gave our order to the cashier, the dishes came out rather quickly – 5 minutes later to be exact. However, we ordered an extra dish at the end of our meal and it took nearly 15 minutes since they had to prepare this one fresh. Since this is predominately a self-service establishment, we had to get our own drinks and utensils.  The wait staff was friendly in answering our questions and they did bus our tables after we had some empty plates. Since it is self-service, we cannot give a thorough review on this aspect, but it was very good from what we experienced.
Ambiance (6/10)
Get Sum is located in a small-strip mall near the Triangle. It opened less than one year ago and is vastly different than your average dim sum restaurant. Get Sum tends to appeal to a much wider audience than traditional places. Not only is the ordering style different, but there was very little ethnic decor. The walls are colorful, vibrant, and modern but they might as well have been serving burgers or burritos. There isn't even any background music to liven up the place. There is limited indoor and outdoor seating available. We would not recommend this place if your party has more than 4 people due to the lack of seating and the small, oddly spaced tables. If you do have a larger party and would like to order from the pushcarts, Shanghai is another great choice. Even though the ambiance at Get Sum Dim Sum is Americanized, the food is not. The dim sum is authentic, delicious, and definitely worth a try!