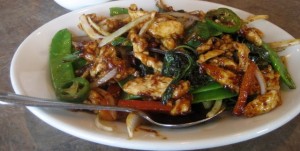 Restaurant: Golden Wok
Location: North Austin, 500 Canyon Ridge, Austin, TX 78753 Map
Phone: 512-228-3688
Price: $7-$10
Hours: Sun-Sat 11am – 10pm, Dim Sum a la Carte Sat/Sun 11am – 2:30pm

Food (7/10)
(8/10) Basil Chicken
This wonderful aroma of this dish reached our senses even before it was placed on our table!  It consists of tender pieces of chicken, scallops, red and green bell peppers, onions, snow peas, jalapenos, and fresh basil stir-fried in a spicy sauce.  It is pretty spicy, so if you are sensitive just ask them to take down a notch. There is a generous serving of both the vegetables and the meat.  This dish is under "Chef Specialties" section of the menu, and we'd definitely order it again.

(7/10) Har Gau (Dim Sum)
Shrimp stuffing sealed in a tapioca flour dough skin and steamed.  This tastes great when dipped in a bit of sriracha/soy sauce.  Simple, yet tasty.

(5/10) Cheng Fun (Dim Sum)
Freshly made rice noodle sheets wrapped around your choice of shrimp, pork, or beef. We ordered Cheng Fun filled with beef, but it did not meet our expectations.  This dish is supposed to be "slippery" which it was, but the noodles sheets seemed to have an odd aftertaste.  The beef was on the chewy side.
(7/10) Egg Custard (Dim Sum)
We thought we'd end our lunch with a little sweetness.  This is a flaky French pastry filled with egg custard, then baked.  The filling and outer pastry shell go well together. It is soft and just melted in our mouths!
Service (7/10)
The waiter was pleasant and attentive.  He checked up on us a few times and refilled our waters without us asking.  The food came out promptly, as did our bill and the to-go boxes.
Ambiance (8/10)
The restaurant is clean and well-kept on the inside.  It also has an earthy feel to it because they use a lot of wood for the décor.  There are tables as well as booths available.  There is a pond with some fish outside.  Golden wok has large windows so it feels very spacious inside. There is also a station where you can customize your own stir-fry bowl.  Overall, it is a comfortable and casual place.