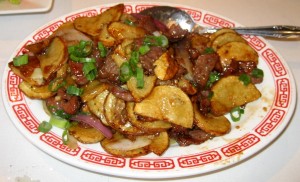 Restaurant: Sea Dragon
Location: North Central, 8776 Research Blvd, Austin, TX 78757 Map
Phone: (512) 451-5051
Price: $6-$10
Hours: Sun-Thur 11am – 9:30pm, Fri-Sat 11am – 10pm
Food (7/10)
(8/10) Beef with Potato
Beef, potatoes, scallions and onions, served in a special sauce. This dish will make your mouth water. The combination of the potatoes and the sauce are to die for! The sauce is slightly sweet and forms a nice glaze on the soft, thinly sliced spuds. The pieces of beef are mostly tender, but some pieces are a little chewy.  Nevertheless, once you start eating it, you won't be able to stop.
(6/10) Chicken with Mushrooms
Served with carrots and snow peas. This is a plain, simple dish that left us unfulfilled. There is a sauce, but it has no distinct flavor or spice. On a positive note, the chicken and vegetables are cooked just right. We suggest skipping this dish and choosing something with a little more pizzazz.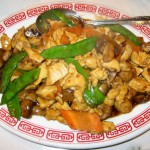 (7/10) Fried Calamari
Served on a bed of lettuce, tomatoes, cucumbers, and onions.  This is not your typical calamari that you would find as an appetizer in other restaurants.  Usually, the amount of fried batter is equal to the calamari, but at Sea Dragon you definitely get the most bang for your buck. The platter comes with approximately 12 large, meaty pieces of delicious fish.  A word of advice…eat the salad first because you won't want to eat it after the calamari!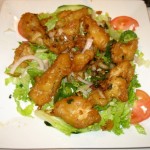 Service (7/10)
We dined at Sea Dragon on a weekday night and as expected, it was not crowded. The staff is minimal here, with no host/hostess to seat patrons. There was only one waiter working that night, but this did not cause our service to suffer.  The one-man-show took our orders, brought our food out promptly, refilled our waters, and bussed the tables.  Overall, the service was solid, but there was nothing extraordinary.
Ambiance (7/10)
Sea Dragon is unassumingly located at the back of a somewhat "sketchy" strip mall. This casual establishment is roomy, yet intimate on the inside. They only have table seating available. The restaurant is carpeted, well maintained, has two large tv's on the wall, but could definitely use more decorations. One could easily host a large gathering or party here because it is so spacious. They serve both Chinese and Vietnamese food, but Vietnamese cuisine is their specialty. Also, although going in for the lunch buffet seems like a great deal for the variety and price, we recommend ordering something more authentic from the menu. Granted, the menu is a little overwhelming due to endless choices. But it's fun to browse through the options and try something new.  Sea Dragon is a viable option for yummy, affordable food.