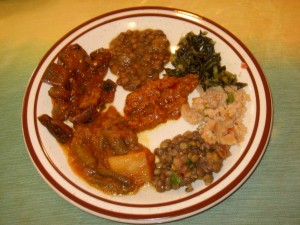 Restaurant: Aster's Ethiopian Restaurant
Location: Central Austin, 2804 N I-35, Austin, TX 78705 Map
Phone: (512) 469-5966
Price: Lunch: $10 (Buffet), Dinner: $11 – $15 (Entrees)
Hours: Tues-Thurs 11am – 9pm, Fri-Sat 11am – 10pm, Sun 11am – 9pm, Mon Closed
Food (7/10)
This review might be a little overwhelming, but we figured we would describe exactly what it is we were eating. Perhaps jot down on a post it the ones that sound delectable and bring it with you to Aster's!
(8/10) Azifa
Ethiopian lentil salad, served cold. Lentils cooked with onions, green peppers, mit'mit'a (ground chilies), lemon juice, olive oil and vinegar. This one is cool, refreshing, and tasty! A great complement to the other hot and spicy dishes.
(6/10) Keyi Siga Wott Spicy
Tender beef cubes stewed with Berbere sauce then flavored with onions, garlic and ginger root. It has a very nice flavor, but about half of the beef chunks were dry and difficult to chew.
(8/10) Doro Wott (Spicy)
Ethiopia's National dish! Exquisitely flavorful and spicy chicken slowly simmered in Berbere Sauce and authentic Ethiopian spices. This is a fantastic dish. The chicken is extremely tender and the delicious flavor goes all the way down to the bone. It reminded us of a spicy barbecue chicken.
(8/10) Menchet Abesh (Spicy)
Ground beef simmered in Berbere sauce, with garlic, ginger, black pepper and even more authentic Ethiopian spices. We got several servings of this fabulous dish! The ground beef is packed with flavor and is addictive. Eat this with injera for a match made in heaven.
(6/10) Alicha Menchet Abensh (Mild)
Ground beef simmered in a hot turmeric latte sauce with garlic, white pepper and Ethiopian seasonings. Don't fill up space in your belly with this one. Choose the more flavorful Menchet Abesh instead.
(7/10) Fasolia Wott
Potato, green beans, carrots, onions, tomato sauce with cinnamon, garlic, and ginger sauce. Don't let all these vegetables scare you away. Even if you aren't a fan of these, the savory sauce will make it all worth it.
(5/10) Gomen
Ethiopian style collard greens cooked with onion, garlic, and spices. These collard greens were too bitter for us. You may want to skip this one and get something else from the yummy buffet.
(6/10) Bedergan
Eggplant spiced and prepared with tomatoes sauce, garlic, onions, and special Ethiopian seasoning. This dish was pretty good. It reminded us of an Indian dish called baigan, which is essentially the same thing. This is one of the milder flavored dishes on the buffet.
(7/10) Keyi Miser (Spicy)
Split lentils sautéed in with Berbere, onions, and spices. These are thick and creamy lentils with lots of flavor. We highly recommend this one when compared to their other lentils Aster's offers.
(6/10) Shiro Wot
Peas powder, onion, garlic, ginger, olive oil, spices and salt. In small quantities this is great, but after a while the texture becomes unpleasant. It was mushy and leaves you with a dry feeling in your mouth. However, it was still unique and flavorful.
(8/10) Ginfilfil
Injera, meat stew, onions, berbere, garlic, black pepper, salt and spices. This is probably our favorite item on the buffet. It looks like a hodgepodge of ingredients, but they come together to form a delightful creation. The spices along with the sourness of the injera make this dish an excellent choice.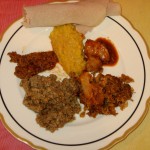 Service (8/10)
We dined at Aster's on Saturday for their lunch buffet. When we arrived, we were greeted by Aster's husband. We chose a table to sit at and his daughter took our drink order. This was a self-serve buffet, so we got a plate and helped ourselves. Each time we got another plate of food, our old plate was quickly removed from the table. We never had to stack up our dirty plates like we've done at some buffets. Our drinks were refilled promptly. The buffet included complimentary lemon cake and chocolate cake. Be sure you leave room for these, because they are absolutely delish! One negative about the service is that we were given the bill about halfway through our meal. We found this to be a bit tacky and felt a bit rushed. Other than that, the service was fantastic!
Ambiance (7/10)
Aster's is located along I-35, just blocks away from the UT campus. Don't let the tiny, rundown building deter you from trying out this place. Inside, you will find one of the best and most authentic Ethiopian restaurants in Austin. The restaurant is on the small-side with two seating areas. There is a main air-conditioned seating area, along with an equally-sized covered outdoor area. However, the outdoor seating is miserably hot in this summer heat. Aster's is a family-owned and operated restaurant. You will find many photos of their grandchildren hanging on the walls alongside the traditional Ethiopian pictures. There is also a small area where they sell accessories. This eatery is good for small and medium-sized groups. Parking is not an issue since they have their own lot. If you haven't had Ethiopian food before, we suggest giving their huge buffet a try. You will appreciate the value and love their variety!