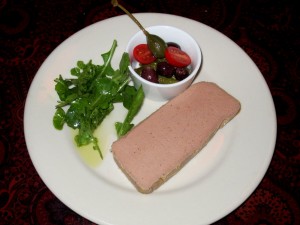 Restaurant: Chez Nous
Location: 510 Neches Street, Austin, Texas 78701 Map
Phone: (512) 473-2413
Price: Dinner: $25 – $35
Hours: Lunch: Tues – Fri 11:45am-2:00pm, Dinner: Tues – Sun 6:00pm-10:30pm
Food (7/10)
(7/10) Pâté maison
Homemade pâté served with cornichons and nicoise olives. The house specialty was a duck liver mousse pate. It tasted great when accompanied with the olives and pickles on the baguette. The bread itself was tough and tasted a few days old. This would be less than ideal at any restaurant, and even more so at a French Bistro. The pate was still good, it just needed a better transport mechanism!
(9/10) Filet De Boeuf Au Poivre
Pepper crusted prime beef tenderloin steak pan-seared and served with brandy, stock and cream sauce. All entrees are served with pommes dauphines and fresh vegetables. The filet was divine! A melt in your mouth filet that was flavorful, tender and juicy. It even had a slightly crispy exterior which we loved. The brandy cream sauce was pretty good too. The sides were mediocre and consisted of squash, a cooked tomato and something that resembled and tasted similar to hush puppies. Although it's one of the pricier items on the menu, the portion was large and the tenderloin was worth it.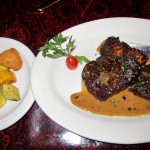 (5/10) Entrecôte Béarnaise
Grilled prime ribeye steak medallions with grilled onions and bearnaise sauce. The flavor was great, and the onions were a nice touch. We thought we'd state the positives first. The beef itself was extremely chewy, and the sauce was underwhelming. We couldn't eat half of it b/c it was gristle and fat. We've had this kind of cut before at nice restaurants but were disappointed in the outcome here.
(7/10) Crème Caramel
Homemade caramel custard. Since we were stuffed, we wanted to order a lighter dessert instead of our usual chocolate choices. Creme caramel would fall into the category of flan, creme brulee or panna cotta. It had a silky smooth, creamy texture and a subtle caramel-y sweetness. It was a tiny dessert for the price, so if we order it again we'd each have to get our own!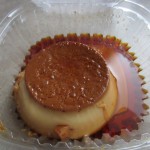 (7/10) Service
Chez Nous only takes reservations for parties of 6 or more. We went on a Saturday night and waited about 10-15 minutes before being seated. The hostess gave us a choice of two different seating options which we thought was sweet. For those of you who want to practice your French, the whole waitstaff seems to speak it so practice away! Most of the staff were friendly and knowledgeable. Our waiter was not a chatty fellow and we noticed early on that he didn't engage in any small talk. Still he was efficient and brought everything out in a timely manner.
(8/10) Ambiance
Chez Nous is located on the corner of 6th & Neches, which makes parking an issue. They do not have valet, which means you have to find near by street parking or a lot. The inside has a casual and cozy French country bistro feel to it. With dim lighting and flowers at each table, it's romantic and intimate. Almost too intimate and could be considered a little cramped. The tables are close together which makes the noise factor high if it's busy. For those who are not able to use stairs – note that you have to take some stairs to get to the restrooms. Chez Nous is a nice, special occasion restaurant – try it and tell us what you think!