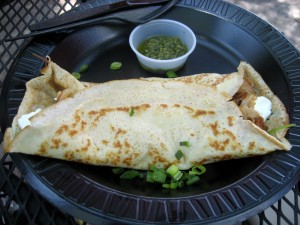 Restaurant: Le Paris Creperie
Location: 1207 South 1st Street, Austin, TX 78704 Map
Phone: (512) 970-4342
Price: $5-$7
Hours: Tues – Sat 9am – 2pm, 6pm – 8pm
Food (8/10)
(7/10) Mediterranean Crepe
Oven-roasted chicken, goat cheese, caramelized onions and fresh spinach.  There are two things that set this crepe apart from others: the goat cheese and the side of pesto sauce.  The goat cheese added a rich and creamy texture that made our mouths water.  Throw in some pesto in every bite and you'll form an addiction. The oven-roasted chicken was tender and flavorful, but we wish there was more of it.  Also, since the goat cheese was very rich and there was plenty of it, it overpowered the other. Overall, this was a delicious crepe and we would order it again!
(8/10) Chicken Florentine Crepe
Oven-roasted chicken, carmelized onions, mushrooms, green onions, spinach, and Swiss cheese topped with chipotle mayonnaise. If you are looking for a crepe that packs flavor and has lots of substance, then this is the one for you. Several of the ingredients in this are also in the Mediterranean, but they have completely different flavors. The veggies were cooked just right and the chipotle mayonnaise complemented the chicken very well.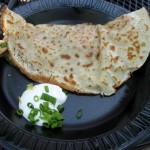 Service (9/10)
We met with the friendly owners of Le Paris Creperie and placed our orders at the trailer window.  One pleasant surprise is that they bring out the food to you where you are sitting. There was no yelling out your name to come pick up your food. We liked this personal touch.  This food came out in a very timely manner (about 10 minutes), but we noticed they brought out one crepe that we did not order. We asked them about it and we found out that we mistakenly ordered the Florentine rather than the Chicken Florentine. Even though it was our mistake, they were more than happy to cook one up at no additional charge. Who says just because you serve food from a trailer that you cannot have great service?!
Ambiance (8/10)
Le Paris Creperie is the latest addition to Austin's food trailer boom. This shiny metallic trailer is conveniently located next door to Izzoz Tacos on South 1st.  There is a large colorful menu in front of the trailer that is easy to read from a distance.  There are also several benches available to eat on as well as standing tables. Many of these are under trees which provide shade for those hot summer days. They also have stereo that provides some background music while you enjoy your food.  Parking shouldn't be an issue as there are plenty of spaces in the lot. If you are looking to grab a bite for lunch, dinner, or dessert, be sure to give Le Paris a try!