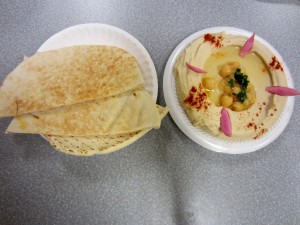 Restaurant: Sarah's Mediterranean Market
Location: North Central, 5222 Burnet Rd #500, Austin, TX 78756 Map
Phone: (512) 419-9605
Price: $6 – $12
Hours: Mon-Sat 10 am – 9 pm
Food (7/10)
(6/10) Hummus & Pita
The hummus was very good, extremely creamy and had a little olive oil drizzled on top. It was a nice portion too. It was a little bit too lemony-flavored though. The pita bread was cold and hard (and as a result a bit on the dry side), but we've experienced this quite a few times at other Mediterranean places as well. We need to ask someone of this is the traditional way to serve pita bread, because we much prefer the hot, soft, and fluffy kind.
(8/10) Baba Ghanouj
The baba ghanouj was absolutely wonderful! One of the best we've had in Austin. It had just the right amount of smokiness and wasn't too lemony or too salty. We could have eaten this without the pita, just like a yogurt! Both the hummus and the baba ghanouj were garnished beautifully, with paprika, cilantro and tiny slivers of purple onion.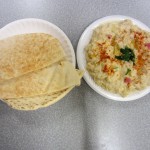 (9/10) Chicken Skewer
This chicken was mouth-wateringly delicious. We want to know what is in the marinade! It was juicy, tender, and full of flavor. We ate the chicken with the pita, but should have ordered a side of rice instead. Some of the chicken pieces were small, but they were perfectly cooked small pieces. We'd definitely order this again.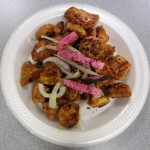 (5/10) Lamb Skewer
Most of the lamb pieces were tough and dry, but we did find a few decent ones in there. We were really looking forward to the lamb, and disappointed that it was overcooked. The lamb did have a nice flavor, but we could only chew on it so much before realizing it was a battle we wouldn't win. For now, we'll stick to the chicken here.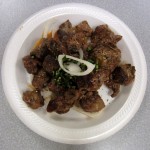 (7/10) Baklava
The baklava was nice. A little dry, but still tasty. The staff gave each of us a baklava and a date since it was our first time in the restaurant. The dates were yummy too. It was a very sweet gesture.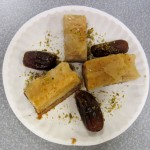 (7/10) Service
The cashier was chipper and charming, and they engage their customers in a witty banter. We all felt they were very warm and helpful had suggestions. You place your order, pick a seat, and pick up your food after they call your number. Since we ordered a good amount of lamb and discovered most of it was inedible, we let Sarah (our cashier) know. She proceeded to try a piece and frostily claimed it was the best lamb in Texas, and she didn't understand how we could think otherwise. However, she did agree to give us one more skewer of chicken. We didn't expect her to be happy while doing that, but we thought she could have been more receptive to our concerns. So the service is great if everything is good, but can waver if there is a bump along the way.
(6/10) Ambiance
Sarah's Mediterranean Grill & Market is located in a small strip-small in the Allandale neighborhood. As the name states, there is both a grill and a small market here. You can eat lunch or dinner here and then shop for groceries! The interior is clean, modest, and smells delicious since they have an open kitchen. There is a short wall seperating the 2 eating areas from the grocery area. The tables and chairs are very basic, but functional. There is a TV in the corner for customers to watch while eating. We dined here during a slower time, but we imagine this place is more crowded during lunch time. In this case, it could get a bit crammed due to the limited space. Understandably, people come here for the food and service, not the ambiance