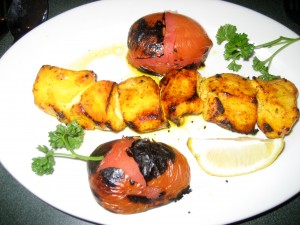 Restaurant: Shandeez Grill
Location: Northwest, 8863 Anderson Mill Rd #109, Austin, TX 78798 Map
Phone: (512) 258-6464
Price: $7-$10
Hours: Mon-Thurs 11am – 9pm, Fri-Sat 11am-10pm, Sun Closed
Food (5/10)
(4/10) Chicken Shish-Kabob
Grilled chunks of marinated chicken breast in saffron & herbs, served with grilled tomato on a bed of Basmati rice. We substituted the rice with pita bread. The chicken was overcooked and tasted very dry as a result. It had a mild flavor to it, and might have been more flavorful if it retained some of the juices. There was one tomato sliced in half, and the outside was burnt instead of grilled. The inside of the tomato was fresh though. The pita bread was stale, as if it had been reheated several times. It was difficult to tear it. Hmmm…perhaps the next dish will fare better.
(6/10) Khoresht Gormeh Sabzi
Sauteed parsley, leek, onion & herbs stewed with red kidney beans, fresh lemon juice and chunks of beef served with Basmati rice. Sounds like a mouth-watering dish, huh? Indeed, this entrée was a little better. The beef was soft and tender but bland. The flavors of the parsley, onion and herbs didn't quite come through. The beans were good, and the gravy of this stew went well with the rice. It's definitely meant to be eaten together because it gets a little boring when the rice is eaten alone.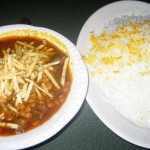 (5/10) Khoresht Bademjan
Sauteed chunks of tender beef & eggplant served with Basmati rice. An average dish, again lacking in authentic flavors. The beef was good but the portion size was small.  The eggplant was a nice addition in the stew. The gravy was not as tasty as the Sabzi's gravy…perhaps it needed some more spices. Next time we could try the Koobideh, but due to the combination of mediocre food and poor service, we will not be returning.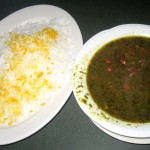 Service (3/10)
We came during lunch on a weekday and it was empty. There was one hostess or waitress on the other end of the small eatery and she said it was self-seating. We chose a table and received or menus, beverages, and a complimentary plate of sliced raw onion, parsley, feta cubes, walnuts and a side of hard pita bread. We asked for some hummus for our appetizer – but they ran out. When we asked for recommendations and had a few questions about the food – it was met with a blank stare. She proceeded to tell us that there really weren't any differences between the beef and chicken. After taking our order, we asked if we could keep one menu on the table so we could choose a dessert later. Our waitress rudely said that there are only two options and we should be able to remember them easily (although there were three on the menu). She took the remaining menu away. Needless to say we were stunned because she acted as if we were an inconvenience to her the entire time. Newsflash – it's not a smart business move to offend the only patrons that are dining at your restaurant! She did come by once at the end of our meal to refill our beverages. We were not asked if we wanted coffee or dessert, which was ok because we were eager to leave. Shandeez could take the cake for the worst service in Austin so far.
Ambiance (5/10)
Shandeez is located in a strip center and has low street-visibility. There is plenty of parking outside the restaurant. The atmosphere has a casual, homey feel to it and is not fancy. The dark brown and green walls are sparsely decorated with framed pictures of Iran. There are industrial metal chairs and tables in a small seating area with subdued lighting. During the day, the large windows provide adequate light for the restaurant. There is also quiet background music and a muted flat panel TV that plays music videos. This place is good for small or large groups, but probably not a romantic date. If you are in the area and craving gyros, drive 2 miles further and treat yourself to a real meal at Zakia's.