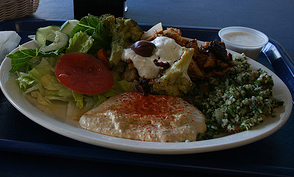 Restaurant: Tino's Greek Cafe
Location: North Austin, 10515 Mopac Expy Austin, TX 78759 Map
Phone: (512) 336-5999
Price: $6-$10
Hours: Mon-Sat 11am – 9pm, Sun 11am – 8pm

Food (7/10)
(6/10) Chicken plate
The first time we went to Tino's, the chicken was flavorful and tender, but another time it was dry and hard.

(8/10) Combo (chicken & lamb) plate
This combo is delicious, cooked well, and juicy. It tastes great with the tzadziki sauce too!
Side Dishes
(8/10) Tzadziki
A refreshing cucumber sauce that goes well with meat or falafel.
(7/10) Hummus
Creamy pureed chick peas with tahini (sesame seed paste) sauce, topped with a dash of olive oil. Dip your pita bread into it…yummy yummy in your tummy!
(4/10) Baba Ghanouj
Mashed eggplant blended with garlic, tahini sauce and lemon juice. It was a bit too lemony for our taste.
(7/10 ) Kefthetes
Baked beef meatballs immersed in tomato sauce. This was slightly spicy and full of flavor. We'd get it again.
(9/10) Spanakopita
Shaped like a triangle, a rich pie stuffed with sautéed spinach, feta cheese, onions and herbs that are all enfolded by crispy, flaky phyllo dough. Our favorite side at Tinos – we could eat it as a meal!
(2/10) Vegetarian Moussaka
Sauteed eggplant and tomatoes, onions, garlic, bell peppers and tomatoes made with Greek Herbs. It was lacking in flavor and too mushy.
(5/10) Steamed Vegetables
A medley of broccoli, cauliflower, and carrots. Decent.
(4/10) Falafel
Chickpeas and seasoned potatoes fried together. It was very lightly seasoned and a bit on the dry side.
Service (8/10)
Tino's Greek Café is a cafeteria style eatery, you stand in line and point to which food items you'd like. You also get to pick between soup and salad and they give a generous amount of the latter.  This place is vegetarian friendly!
Ambiance (7/10)
It's a humble café, with plenty of seating inside and a few tables outside as well. Even though it gets busy during lunch, there is plenty of parking available and it does not feel overly crowded inside. A fun Lebanese/Greek café with a variety of choices.