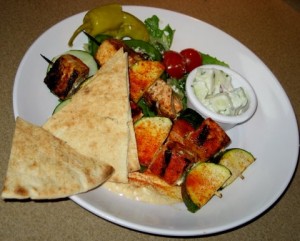 Restaurant: Zoe's Kitchen
Location: Arboretum,  10000 Research Blvd Ste 101, Austin, TX 78759 Map
Phone: (512) 372-9080
Price: $7-$10
Hours: Mon-Thurs, Sun 11am – 8pm, Fri-Sat 11am – 9pm
Food (7/10)
(8/10) Fresh Salmon Kabobs
2 charbroiled kabobs, zucchini, hummus, cucumber raita and a side Greek salad. Expecting the salmon to be charred or dry, we were pleasantly surprised to find the salmon tender and juicy, with a mild flavor. There were generous cubes of salmon and vegetables on the skewer. The zucchinis were over-seasoned though. The hummus was very good, as was the warm pita pieces that accompanied it. The Greek salad was a nice side item, but we wish it hadn't been drenched with the dressing. The cucumber raita was refreshing, and the cold sweetness went well with the kabobs. This is definitely a fun, healthy option.
(6/10) Spinach Roll-Ups
Spinach, mozzarella, feta, sun-dried tomatoes, and scallions stuffed inside a tortilla. Served with salsa on the side. We added grilled chicken for $1. The roll-ups were decent, but left something to be desired. The white meat chicken was cooked well, and all the stuffings tasted fresh. We thought the rolls could use more sun-dried tomatoes and feta because the spinach overpowers a bit. The yummy grilled vegetables are not too oily, and a nice firm texture instead of soggy. Although the rolls were not dry, it helped to dip them into the salsa.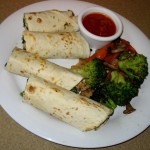 (7/10) House-Baked Oatmeal Cookie
We originally wanted to try the chocolate chip cookie but Zoe's sold out of those for the day. The oatmeal cookie was a little better than average. It could have been a little softer and chewier. We were happy with the size of the cookie, and the flavor was good too, making them perfect as chocolate chip cookie gifts.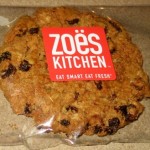 Service (8/10)
Zoe's is a several notches above fast food, but it is still a seat-yourself type eatery. The cashier was very helpful, and gave us insight on the different sandwiches, roll-ups and kabob choices. After choosing our food, we paid the cashier. Then we got our own drinks, napkins, and silverware and sat down. Shortly afterwards, our food was brought to our table in plates, not large trays. The server was courteous and efficient. You do not have to bus your own table, Zoe's takes care of that that after you leave.
Ambiance (7/10)
Zoe's is located inside the Arboretum, so parking is not an issue. The interior is colorful and clean. The decor is slightly modern, airy and inviting. Although it is a chain, it is worth a try because their food is good and affordable, the staff and ambiance are both nice. There is table and booth seating available. Besides having many healthy selections on the menu, another plus is that several items are vegetarian friendly. Zoe's Kitchen does not try to be an authentic Mediterranean restaurant, but instead settles for "something for everyone" approach. After shopping in the stores near by, drop in for a quick bite!