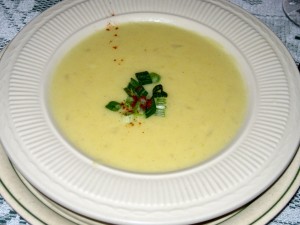 Restaurant: Emerald Restaurant
Location: Southwest Austin, 13614 W Highway 71, Bee Cave, TX 78738 Map
Phone: (512) 263-2147
Price: $30-$45
Hours: Mon-Sun 5pm – 11pm
Food (7/10)
(9/10) The Emerald Potato Soup
This creamy potato soup was the food highlight of the evening. It was rich, extremely buttery and delicious. There were a few chunks of real potatoes in it which helped break the monotony of the soup. There is quite a bit of soup too! It is garnished with some green onions and cayenne pepper – which complimented it beautifully. Don't think about the calorie or fat content…just close your eyes and enjoy this lovely soup! The soup was followed by a small salad that had one of the yummiest homemade dressings we've had lately. It was a sweet but tangy raspberry/tomato dressing.
(7/10) Chateaubriand Tenderloin with Madeira Mushroom Sauce
We asked for our tenderloin to be cooked medium, and it came out medium well. The sweet Madeira sauce was pretty good, but just smothered the beef completely. It could have been any cut of meat because the sauce was overpowering. Unfortunately, a few bites of meat were chewy. This dish also came with a side of (overly sweetened) sweet potatoes that we mistook for large flat carrots. The potatoes were good. There was also a baked potato with a slight vinegar taste to it, and one stem of broccoli. We know that potatoes are a staple in Irish food, but after the heavy soup, two more potato sides were a bit much. Also, for how expensive the dish is, the presentation could be better.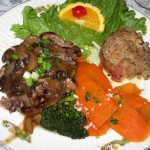 (5/10) Irish Whiskey Cake
This cake had a nice, dense texture and tasted like a pound cake. The cake sat in a pile of whiskey, and it was also drizzled in streaks on top of it. We were hoping for just a hint of whiskey flavor, but it was much too strong. It stopped tasting like a dessert and tasted like an after dinner drink. If you are a whiskey lover you might enjoy this more than we did.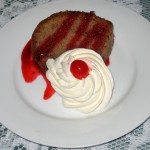 Service (5/10)
We made reservations for a Friday evening. We got there on time, but had to wait for about 30 minutes in the small front lobby. The host was kind, but did little to accommodate. We were finally seated at a nice table near the harpist. The candle on our table was unlit – a minor annoyance. We were not attended to for about 10 minutes. Then we got some complimentary bread, and a very soft-spoken waitress/manager came by to say our first course will be coming out soon. We had a Groupon for a pre-fixed menu and had to ask her to describe the dishes so we knew what to expect! Although we let the staff know that we were a little pressed for time (especially because we were seated late), our courses still took a long time to come out. We do understand that this is the kind of place you relax and stay a while, and it was Valentine's weekend so they were probably busier than usual. Still, for how sweet and soft-spoken they seemed, they weren't very considerate of our concerns. Our waters were refilled, but nobody asked us how the food was, or if we needed anything. Our food was brought out quietly with no conversations and smiles. Perhaps they intended it to be that way since it was a romantic weekend…not sure. When our bill came out, the suggested gratuity was written in. We weren't able to finish our second dessert, and nobody came out to offer a to-go box. We were tired of feeling neglected, paid and left. None of the staff was rude, but for this caliber restaurant the service left a lot to be desired. We've heard so much of the wonderful hospitality of The Emerald, but unfortunately did not experience it on this visit.
Ambiance (7/10)
The Emerald is located in a remote area off of Hwy 71 in Bee Cave. It is very easy to miss since there is minimal signage and the restaurant looks like a simple house. Actually, this house is a recreation of a small Irish cottage with a romantic and elegant charm. The restaurant "lobby" is minuscule and only has standing-room, and the dining area consists of about 15 small tables.  The inside is very traditional and reminiscent of a grandmother's house. The tables are covered with lace tablecloth and have (mostly!) lit candles. The food is served on beautiful Irish china and the water in crystal glasses, which adds to the unique experience. Some of the plates however were chipped or dented. On the night that we dined, they had a talented harpist playing a variety of melodies ranging from the classics to rock. He was friendly and personable and even played our requests. The Emerald is not well suited for groups or families with kids, but is ideal for couples. It might be a far drive from you, but we suggest you give The Emerald a chance to wow you. One tip though – go for special occasion dining, but not on a popular weekend.