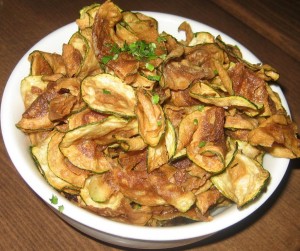 Restaurant: NoRTH
Location: The Domain, 11506 Century Oaks Terrace, Austin, TX 78758 Map
Phone: (512) 339-4400
Price: $15-25
Hours: Mon-Thurs 11am – 10pm, Fri-Sat 11am – 10pm, Sun 11am – 10pm
Food (8/10)
(9/10) Zucca Chips (Appetizer)
These are deep-fried zucchini chips that are as greasy as they are delicious. These thinly sliced chips aren't quite Italian, but they did taste melt-in-your-mouth great. Be sure to start out with this big bowl of yumminess!
(8/10) Fig Pizza
Topped with prosciutto and goat cheese. This thin crust pizza is innovative and scrumptious! The crust is cooked to perfection, and had the right amount of prosciutto and goat cheese garnishing it. The figs are fresh and slightly sugary, yet complement the meat and cheese nicely. One minor point – the figs are kind of large and deliver a burst of sweetness. For this reason, it would be nice if they cut them in half so we could appreciate the figs in more bites. This pizza helps define NoRTH's contemporary approach to modern Italian gastronomy.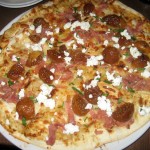 (6/10) Apple Cider Pork Tenderloin
With olive oil potato puree and rapini (a cross between broccoli and turnip).  The tenderloin is indeed tender, but is rather bland. We didn't taste much of any flavor, and certainly not any apple cider essence either. The potato puree was yummy though, and they did give a nice size portion of the pork loin. Skip out on this one since there are many more appetizing dishes on the menu.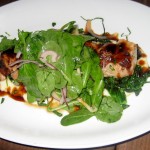 (8/10) Sea Bass
We were happy to see fish on the menu because in Italy – they do eat plenty of it! Served with creamy polenta, tomato confit and asparagus. We were happy to try another great entrée! The sea bass was soft and had a mild but lovely flavor. The creamy polenta went really well with the fish. The tomato and asparagus were excellent additions as well – you could tell that much thought went into preparing this dish. We relished each bite!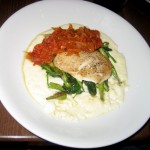 (9/10) Strozzapreti Pasta
Made with mushrooms, spinach, toasted pine nuts and parmesan cream. Usually we don't get very excited about pasta dishes, but this one blew us away. We do confess to adding some crushed red pepper flakes, and that not only made it a bit spicy, but also enhanced the flavors even more. All the flavors really came through and played well together. It was absolutely delicious and we savored every bite. In fact, we have had cravings for it since eating it a few weeks ago!
**Update: We had this again and either the recipe completely changed or we have the wrong picture below. We will figure it out and get back to you. But we ordered Strozzapreti and got a bland pasta dish that looked different than the picture below.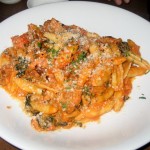 (7/10) Baked Ziti Bolognese
This Ziti is cooked with Bolognese (meat) sauce, spinach, ricotta and mozzarella cheese. This dish is pretty good and is a good sized portion. It has a milder flavor compared to the Strozzapreti, but still enjoyable. Unfortunately, the sauce was reminiscent of Chef Boyardee Beefaroni sauce! Although we do like the Beefaroni sauce, we expected the Ziti to have a more distinct taste. This is a solid entrée, but not our favorite one.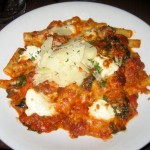 (8/10) Nutella Mousse Cake
We had to order this because who doesn't love Nutella? This hazelnut cake was pretty small and came out on a large plate, but nonetheless was very tasty. It had some chocolate sauce with nuts on the side of the plate. This dessert is not overly sweet, nor heavy, and has a lovely velvety-smooth texture. We wish we saved room in our bellies to try the Panna Cotta here, but that will have to wait until our next trip!
Service (7/10)
We had a large group and made reservations on a Sunday evening.  We were greeted and seated immediately. Our waiter was cordial, but seemed a little scatterbrained.  The drinks took a while to come to our table, but we did receive bread promptly.  Our entrees all came out together which we appreciated because we were eager to dig in!  Our waiter was somewhat knowledgeable about the wine list. The wines can be ordered by the glass, terzo (third of a bottle), or whole bottle. We didn't feel rushed throughout the meal. NoRTH was able to split our checks at the end of the meal – which was also nice. Overall the service was slightly above average.
Ambiance (9/10)
NoRTH is located inside the Domain shopping area – and parking is available outside or in the free parking garages. It has a slightly urban "hipster" feel, with sleek interiors and a sexy, semi-dark atmosphere. Patrons are greeted with a loft-like interior with sophisticated decor, dark floors, modern lighting and brick accent walls. There is a bar area and table seating available. This restaurant can be good for couples or small groups, but they are able to accommodate large groups too. One downside is that only one restroom exists for men and one for women. NoRTH has a fun atmosphere, with soft music playing in the background. The moderate prices really do reflect the caliber of food, service and ambiance – which makes it a great value. Give this restaurant a go, and you will leave with a smile on your face and happy tummy.