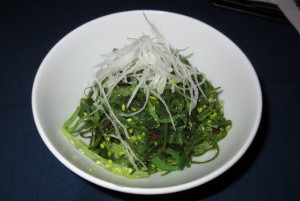 Restaurant:  Afin Sushi
Location: 6519 N Lamar Blvd, Austin, TX78752 Map
Phone: (512) 614-4974
Price: $10 – $30
Hours: Mon-Sun 4:30pm – 10pm
Food (7/10)
(6/10) Seaweed Salad
Your standard, run-of-the-mill seaweed salad, but the flavor is above-average. However, the seaweed is a bit crunchier than others we've tried.
(8/10) Karai Escolar
Slices of super white tuna with garlic chips, jalapeno slices, Korean chili pesto and spicy cilantro. This dish is scrumptious! Soft, tender pieces of escolar in a tasty sauce. The sauce is a little watery but we didn't mind too much. The escolar pieces were not evenly cut and the presentation could be better. But the fish itself was very fresh and delicious.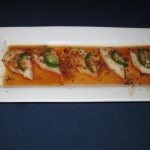 (7/10) Garlic Edamame
A twist on edamame. The outside of the edamame was coated with an addictive teriyaki garlic sauce. We couldn't stop eating them and were happy to see they gave a generous portion!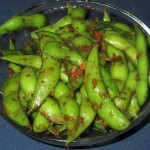 (8/10) Chicken Gyoza
Steamed dumpling stuffed with chicken. The gyoza was very enjoyable. It didn't even need the dipping sauce, but the sauce complemented it well. We'd order this one again.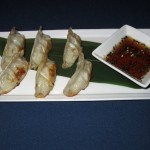 (6/10) Agedashi Tofu
Firm tofu, cut into cubes, deep fried until golden brown. The outside was slightly crispy, while the inside was warm and soft. The quantity was huge, but the quality of the soy sauce the tofu was sitting in was sub-par. We've had some better agedashi tofu at other sushi joints in town.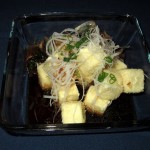 (6/10) Eel Roll
Eel and avocado. A simple roll, decent but no bells and whistles. The eel was fresh. We may order this roll's fancier cousin next time – the caterpillar roll.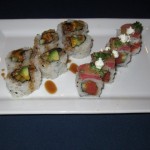 (7/10) Choo Choo (Magnolia) Roll
Spicy tuna, cucumber with blackened tuna on top with a honey wasabi sauce sprinkled with goat cheese. This is without a doubt one of the most unique rolls we've had. This fusion roll could have been on the menu at a restaurant such as Uchiko. The honey wasabi sauce was subtle, but there may have been a tad too much goat cheese. With goat cheese, a little goes a long way. Also the tuna was yummy, but not blackened. The jury is still out on this one…
(8/10) Spicy Jen-Jen Roll
Spicy tuna, cucumber and avocado. Topped with fresh salmon, spicy aioli and tempura flakes. This is a fun and filling roll. The tuna and salmon were fresh, and the flakes added a nice crunch. Dipping this one in soy sauce enhanced all the flavors even more.
(8/10) Lava Volcano Roll
Sauteed Scallops, jalapeno, scallions and onion with spicy sweet sauce over a crunchy California roll. This creation was amazing! The scallops were marinated well, cooked perfectly and very tender. Afin gave a generous portion of them too. The Korean spicy sweet sauce was on the spicy side – even for seasoned veterans like us. Beware of the jalapenos (unnecessary!) in this – we were literally sweating as we ate this roll. This is not to say it wasn't good – it was outstanding! It would be even better with a little bulgogi or kalbi in the roll. This roll will wow you and possibly set your tastebuds on fire!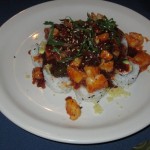 (6/10) Russian Roll
Crabmeat, fresh salmon, avocado and cucumber topped with silky super white tuna and black caviar. The white tuna was indeed silky – it almost tasted like cream cheese! We couldn't taste the salmon too much. The black caviar made for a beautiful presentation and created a fun texture. This roll was good, but Afin has too many other options for us to order it again.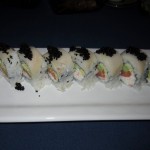 (7/10) Service
We went on a Sunday evening for dinner. The hostess saw us come in, walked away, came back a minute later and said that there was a wait. She then asked us to sit on the sofa. We asked her if she'd write our name down on the list. No hello or anything – we didn't know if she was new or stressed or both. We were seated 15 minutes later and to our relief, our waiter was friendly and knowledgeable about the menu. Our food was brought to our table on a timely manner, by multiple staff members. We had to ask a few times for our water to be re-filled. If you like wasabi and ginger, you may have to ask for it. Our waiter kindly put our leftovers in containers for us. All in all it went pretty smoothly.
(7/10) Ambiance
Afin is located in a somewhat deserted looking strip mall. The window panes are so dark that we wouldn't know the restaurant was open aside from the neon open sign. The interior is interesting–the walls are painted a deep blue, and there isn't much else on the walls. The restaurant is semi-separated into two halves by beautiful bamboo like scrolls that have foliage on them. There is a sushi bar and alcohol bar with limited seating. The rest of the restaurant has booths and tables. There were two TV's with muted sports on, and one large projector like screen that was playing a violent Asian movie. Top 40/pop music was coming out of the speakers. There was a little bit of traditional Japanese decor if you looked for it. The ambiance was casual, and it's good for couples or groups. On Sunday, they have an all day happy hour that is pretty awesome. If you're in the mood for fresh sushi and happen to be on this side of town, (keep in mind they are only open for dinner), drop in and give it a try!