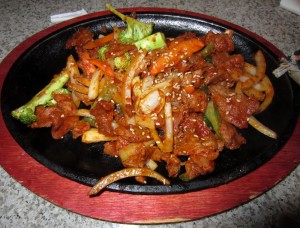 Restaurant: Hakata Sushi & Asian Grill
Location: Pflugerville, 900 Pecan St E., Pflugerville, TX 78660 Map
Phone: (512) 670-2480
Price: $12 -$20
Hours: Open Mon-Fri 11am – 10pm, Sat 12pm – 10pm
Food (6/10)
(7/10) Pork Bul-Go-Ki
Korean BBQ beef, pork or chicken that is marinated in Asian Pear sauce, served on a sizzling hot plate. Includes miso soup, Hakata salad and steamed rice. The miso soup was was plentiful, and the Hakata salad came with an addictive dressing. We wished there was more salad just so we could have more dressing! The pork bul-go-ki was well-flavored and delicious but a couple bites were chewy or fatty. Besides pork, this entree also had diced carrots, bell peppers, onions and even a few broccoli. Folks, this dish is a winner in terms of taste and value.
(6/10) Chicken Bul-Go-Ki
This entree is the same as the above dish, except with chicken instead of pork. The chicken was more tender than the pork, but did not retain the same amount of BBQ flavor. It seems pork and beef fare better in bul-go-ki dishes. Still, this was a solid dish as well.
(5/10) Chirashi
Sashimi on a bed of sushi rice with vegetables. This comes with the chef's choice of 4 different fish. Tonight it was tuna, salmon, yellowtail and red snapper. This dish was a mixed bag. The salmon and yellowtail were both pretty good, but didn't taste especially fresh. The tuna was ok but definitely tasted a little watery and fishy. The red snapper was very chewy and had a funky smell to it. There were also 2 pieces of kani (imitation crabmeat) and a few slivers of yummy avocado on top. Hakata gives a generous amount of rice as well.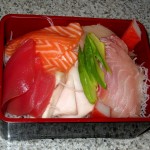 (8/10) Caterpillar Roll
Freshly baked eel, cucumber, topped with avocado. Not only was this roll beautifully created, it was absolutely delicious! The eel was fresh, and the eel sauce, avocado, and sesame seeds on top just added to the overall scrumptious flavor. If the rice didn't expand so quickly in our tummy and send us into a food coma, we would have ordered more rolls!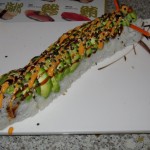 (7/10) Service
We made reservations for a group of 6 on a Friday evening. The restaurant was half full. When we arrived, we the hostess/waitress pointed us to the table with a little reserved sign on it. After we sat down, we waited for someone to come over and take our drink or food orders. Nobody ended up coming for the first 20 minutes, so we asked one of the sushi chefs behind to find a waitress for us. The waitress who came over was the hostess and seemed like the chef's wife. She was really nice, but had a very thick accent which made it difficult to understand her. She took our orders and came by a few times to check up on us. We did have to ask several times for more water. Before our bill came out, our waitress also brought out a complimentary plate with 4 pieces of sushi on it. That was also a sweet touch, and left us with no room for dessert! We were very appreciative of the fact that they were able to split the bill for our small group. We were off to a slow beginning, but overall the service here is pretty good and the waitstaff is kind.
(6/10) Ambiance
Hakata is located in a strip mall in Pflugerville. It is unassuming from the outside, but comfortable and quaint on the inside. It is decorated modestly with Asian themes. The restaurant is clean and well maintained, and is pretty small inside. There is a sushi bar area as well. There is nothing that jumps out – positive or negative about about the decor. It has the feel of a cozy, no frills neighborhood sushi joint. The silverware and tea sets are mis-matched. Fun facts: there was country music playing in the background, and there are lots of bridal magazines in the women's restroom! We would not make a special trip to come here, but if you're in the area and craving some Korean or Japanese food, try it out!