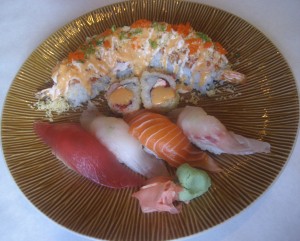 Restaurant: Koreana Grill & Sushi Bar
Location: North Austin, 12196 N Mopac Expwy, Austin TX 78758 Map
Phone: (512) 835-8888
Price: $10-$20
Hours: Mon-Fri 11am – 2pm, 5pm – 10pm, Sat-Sun 5pm – 10pm
Food (7/10)
(9/10) Fiesta Roll
This is one of the best rolls we've had in Texas (and trust us we've eaten a bunch!) Shrimp tempura and spicy tuna is on the inside and topped with an incredibly delicious sauce. The roll is covered with masago and green onions – which created the perfect amount of crunch and flavor. Your senses will jump for joy with this one!
(8/10) Sea Bass (Nigiri)
Tastes soft and fresh and would definitely order it again.
(8/10) Tuna (Nigiri)
Tastes tender and fresh, with no saltwater aftertaste. We don't usually order tuna but we were pleasantly surprised.
(5/10) Salmon (Nigiri)
Tastes soft but slightly chewy. Not that buttery delicious kind of salmon.
(3/10) Flounder
It was very fatty…we had to spit it back out! Do not get the flounder.
(7/10) Pork Bulgogi
Some pieces of pork were tender while other pieces were a tad chewy. Its flavorfully marinated in a mixture of toasted sesame, soy sauce, chopped ginger roots, and minced garlic. Char-grilled over flame and topped with stone ground chili pepper sauce – yummy!
(7/10) Singapore Noodles w/ Chicken
Once you start eating this, you won't be able to put your fork down. This dish has a gentle flavor, but the chicken, onions, bell peppers, and green onions are cooked to perfection. If you prefer more flavor, simply add soy sauce and chili sauce and you will be in for a treat.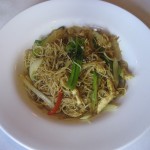 Service (8/10)
We have been to Koreana Grill & Sushi Bar during lunch and dinner and found the staff to be friendly and attentive even during peak hours. Our selections were brought out in a timely manner and removed quickly after finishing each dish. The prices are very reasonable (especially during happy hour) for the quality of food and level of service we received. We ordered take out once and the amount of food we got seemed smaller than when we dined at the restaurant.
Ambiance (8/10)
Koreana is good place to meet friends/family, and the dim lighting during dinner offers an intimate, romantic atmosphere as well. Fancy decor and beautiful silverware only add to the casual elegance.