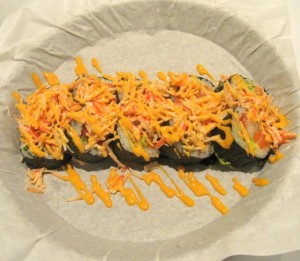 Restaurant: Maki
Location: North Austin, 10515 N. Mopac Expy, Austin, TX 78759 Map
Phone: (512) 243-8298
Price: $6-$12
Hours: Mon-Sun 7am – 9pm

Food (7/10)
(6/10) Angel's Roll
This roll is one of the two daily specials on the Maki board. It contains of salmon, strawberry, avocado, and is topped with crab mix and spicy mayo. Like all rolls at Maki, this consists of 10 large pieces and has an unbeatable price (this special roll is $8). Even though this roll came fully dressed, we could not taste the full flavor of this roll because of the abundance of rice and the somewhat chewy seaweed. However, when we tried the unagi and salmon by itself, we easily noticed that both were very fresh and delicious. If you order this roll, ask for less rice and possibly an upgrade to their soy wrap, instead of seaweed.
(8/10) Unagi & Yellowtail Roll (Custom)
Maki is a unique Sushi restaurant where you can customize Sushi rolls to your heart's desire. What an innovative concept! Everything can be custom ordered, down to the type of wrap, toppings and even dipping sauce. Here is a rundown of what we chose:
* Wrap: Soy wrap (instead of the traditional seaweed) with less rice
* Fish: Unagi & Yellowtail
* Veggies: Green onions, tofu skin, cucumbers
* Toppings: Tempura crunch, various sauces on the side (the wasabi mayo has a great kick!)
All we can say is WOW! This is one of the best Sushi rolls we have tried and rivals the Blue Moonlight roll at Sushi Niichi on West Campus. Tiny modifications that made this roll even more enjoyable was asking for the soy wrap and less rice.  The unagi and yellowtail were as fresh as in a higher end restaurant. If you like spicy sauces, try the owner's own special sweet chili and your taste-buds will rejoice.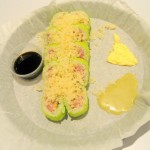 Service (8/10)
Maki has a fast-food style ordering area similar to Subway or Chipotle. Because this is such a unique concept, it may take longer than usual to figure out what you want but once you do, the roll is prepared in minutes. We had the honor of meeting the owner, Peter, who seemed genuinely interested in talking with us and was very friendly.
Ambiance (8/10)
After using your culinary creativity to design a roll, sit down at a casual table/booth and take in the vibrant decor! We won't give it all away but the walls are really cute and the lighting is fun. There is plenty of seating available and parking is abundant in the Arbor Walk Shopping Center. If you are a sushi novice and not ready to try raw fish yet, Maki also offers grilled beef and chicken as options. This is a great place to visit for lunch, dinner or both!