Restaurant: Midori Sushi
Location: Northwest, 13435 N Highway 183 # 301, Austin, TX 78750Map
Phone: (512) 257-1411
Price: $8-$14
Hours: Mon-Thu 11:30am – 10pm, Fri-Sat 11:30am – 10:30pm, Sun – Closed
Food (7/10)
(6/10) Miso Soup
There are not many variations to miso soup at restaurants. What usually differentiates them is the amount of salt and vegetables. The amount of salt in the soup is just right, but comes with only 3 or 4 bits of green onion and lacks tofu.
(8/10) Caterpillar Roll
Eel, cucumber, and avocado with eel sauce on top. This is a standard roll served in all sushi restaurants; however, this one is anything but ordinary. The pieces are the right size so you do not over-stuff your mouth. The eel is soft and flavorful, and the roll has a sufficient amount of sauce on top. This is a delicious roll that does not even need dipping in soy sauce.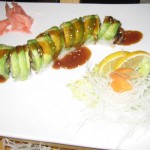 (8/10) Phoenix Roll
Deep fried roll with chopped red snapper, salmon with Midori spicy sauce on top. If you are looking for a warm, spicy roll, then this is perfect for you! The sauce on this reminds us of the "secret" sauce on the Longhorn roll at Kyoto, but overall a more tasty roll. Once you start eating this, you won't be able to stop.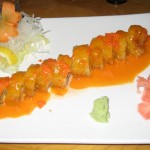 (8/10) Marilyn Monroe Roll
Spicy tuna inside, fresh salmon on top with masago, green onions, avocado and special spicy sauce on top. Like most of the fish at Midori, the tuna and salmon are very fresh and soft. The roll has a great combination of ingredients and the spicy sauce on top brings it home. A very solid roll.
(6/10) Rock & Roll
Shrimp tempura, cucumber, avocado, masago, and lettuce. This is our least favorite roll at Midori. The pieces are extremely large and lack flavor. This one must be dipped in soy sauce and was nothing like the other rolls we ordered.
(7/10) Salmon Sashimi
The salmon is soft and tender and does not taste like the ocean. They also gave decent portions. Yummy!
(8/10) Tuna Sashimi
The quality is on par with more expensive sushi restaurants. You won't be disappointed with this delicious tuna!
(3/10) Sea Bass Sashimi
The Sea Bass is chewy and difficult to eat. We've been told that this is normal for Sea Bass. However, it's similar to the big-eye tuna sashimi at Musashino.
(10/10) Escolar Sashimi
There is a reason why they call this butterfish. This one is our favorite…it's amazingly fresh and smooth. Your mouth will be craving this even after you leave the restaurant. When it comes to sushi, it does not get any better than this folks!
(5/10) Albacore Sashimi
This one is akin to the sea bass…chewy and rather unpleasant!
(6/10) Yellowtail Sashimi
The yellowtail is mediocre. It is slightly chewy and, therefore requires a bit of soy sauce to wash it down.
(9/10) Eel Sashimi
Similar to the eel in the Caterpillar Roll, it is sweet and delectable. If you haven't tried unagi and you're a little nervous, Midori would be a great place for you first-timers!
Service (7/10)
The hostess and waitress at Midori are pleasant and friendly. We were promptly seated even though it was a busy Friday night and our drink orders were taken promptly. The waitress has helpful in answering questions regarding the menu. We requested several items from her (lemons, forks, napkins, etc) but she never came back with more than one item at a time. However, she did mention that she would bring out the other items so we did not have to remind her twice. Our food order arrived in a timely manner and she did check on our table at appropriate intervals. Overall, the service was very good but they are noticeably understaffed.
Ambiance (7/10)
Midori is a casual, well-lit restaurant located in a large strip mall in Northwest Austin. The restaurant is tastefully decorated with Japanese umbrellas and lanterns hanging from the ceiling. The tables and booths are made of bamboo-colored wood which adds to the decor. Midori even has a couple of traditional tables where patrons remove their shoes and sit on an elevated platform. What is interesting about these seats is that instead of sitting Indian-style, you can hang them down and rest them on the floor (if you can reach!). Midori is a small-medium sized restaurant, so if you are coming with a group be sure to make reservations. And if you are a Japanese/Sushi newbie, Midori includes pictures of their rolls in the menu for easy ordering!