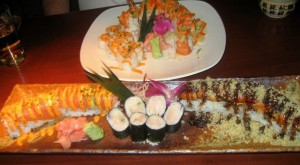 Restaurant: Mikado Ryotei
Location: North Austin, 9033 Research Blvd. Austin, TX 78758 Map
Phone: 512-833-8188
Price: $8-$15 Sushi Rolls, $15-$25 Entrees
Hours: Mon-Thu 11am – 10pm, Fri-Sat 11am – 10:30pm, Sun – Closed
Food (6/10)
(6/10) Crunchy Kazi
This roll has spicy tuna, avocado, and smoked eel with crunchy flakes and eel sauce on the outside.  It is decent but lacks slightly in flavor.  Also, the individual pieces are huge so it is a tad frustrating trying to fit it all in one bite, but quickly falls apart if you attempt anything else!
(7/10) Hottie Susan
Includes spicy tuna, cucumber, topped with salmon, avocado and spicy sauce.  This is a solid roll and had a little kick to it due to the sauce.
(4/10) Negihama Roll
This is a simple yellowtail roll with scallions and cucumber rolled in the seaweed.  The amount of rice trumps the amount of yellowtail – so we couldn't taste any of the other flavors too much.  This one definitely needs to be dipped into soy sauce or dabbed with wasabi.
(8/10) Chorishi's Fire
This roll consists of shrimp tempura, spicy tuna, avocado and spicy sauce. This was the yummiest roll here… the tempura and tuna went well together.  Mikado added more spicy sauce on this one (as opposed to the Hottie Susan) which gave it a bigger kick to it because it brought out the other flavors in the roll as well!
(7/10) Spicy Crawfish Roll
Includes crawfish tail, avocado and spicy sauce.  It pleased our palates…we would probably try it again.
(5/10) Molten Chocolate Lava
It's a chocolate cakey exterior is filled with warm, dark chocolate truffle.  The outside cakey part is kind of thick and hard.  The molten insides made up for it a bit.
(6/10) Tempura Ice Cream
This dessert consisted of deep fried vanilla ice cream and coated with tempura crunch.  Again, the exterior was kind of thick and hard and didn't flake off easily.  The ice cream ball on the inside is delicious.  The presentation was nice – it comes in a martini glass instead of a bowl.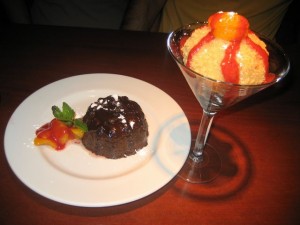 Service (6/10)
The waitress was nice but not attentive enough.  It wasn't busy either, so we were curious as to why service was on the slow side.  When we asked for our water to be filled, we also had to wait a bit.  Overall, for a fancy restaurant the service could have been better.
Ambiance (8/10)
Mikado has a swanky, clubby yet romantic, dimly lit interior.  There is table or bar seating.  The booths are huge so it can work for groups as well as couples.  We went on a weeknight and they played 80s music and a little techno/trance as well.  There is ample parking because Mikado is in a little strip mall area.