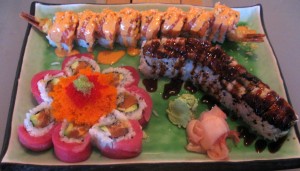 Restaurant: Sushi Niichi
Location: West Campus, 705 West 24th St, Austin TX 78705 Map
Phone: (512) 469-0499
Price: $7-$15
Hours: Mon-Thur 11am – 10pm, Fri 11am – 11pm, Sat 11:30 am – 11 pm, Sun 11:30 am – 10 pm
Happy Hour: Sun-Thur 4pm – 6pm
Food (7/10)
(5/10) Gyoza
These pan-fried dumplings are pretty ordinary compared to other Japanese restaurants.
(6/10) Cherry Blossom Roll
This creative roll is pictured above on the bottom-left side (shaped like a flower). Each piece is wrapped with a large piece of fresh salmon and topped with colorful roe. A decent roll that might be worth trying again.
(8/10) Blue Moonlight Roll
If you like spicy tasty rolls, then this one is perfect for you. Pictured on the top of the photo, this roll consists of tuna, shrimp, and salmon. You might wonder if that much fish would cause the roll to be mushy — it isn't. Order this and your taste buds will be delighted!
(7/10) Niichi Roll
This delicious roll is pictured on the bottom-right of the photo. It may look like your basic unagi roll, but it has some pizazz to it! It is packed with salmon, avocado and cream cheese inside, and topped with a perfectly marinated piece of unagi. It tastes so good that we didn't even use the soy sauce for this one.
(6/10) Snow White Roll
A simple roll that has hamachi (yellowtail), avocado and cream cheese inside, but we substituted the cream cheese with green onions. This roll doesn't burst with flavor, but they did not skimp on the yellowtail either and we liked that.
Service (8/10)
We were seated immediately and the waitress offered her opinions on the best rolls. They are attentive and efficient too. They easily accommodated our request for a substitution. We didn't wait too long for our food to come out, nor did we wait to get more water/drinks.
Ambiance (6/10)
From the outside, Sushi Niichi is unassuming and easy to miss because of its location on West Campus. The inside has decorative bamboo and has a nice cozy feel to it. It was clean, small and simplistic. Although parking was not an issue for us, it could be during peak hours due to the limited parking spots in front of the restaurant.